For our good friends at Boardroom Reports…
FREE Ultimate Wealth-Building Guide Reveals How to…
Download Your FREE Report Here…
Your name, email address, and contact information will NEVER be shared, sold, rented, traded, or abused in any way.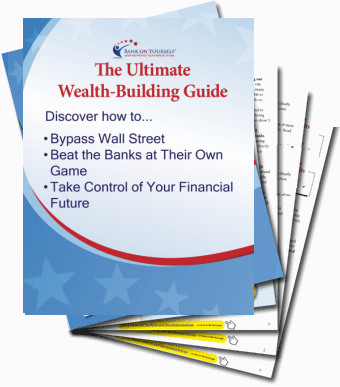 Achieve the peace of mind that comes from steady, predictable growth, year in and year out.  You'll always know the guaranteed value of your retirement account on the day you'll want to tap into it… and every point along the way.
Page 7
Access the money in your plan – with no taxes or penalty or restrictions – when you want and for whatever you want.  (Try doing that with your 401(k) or IRA!)  Page 10
Bypass banks, finance and credit card companies altogether by becoming your own source of financing for cars, vacations, education… even starting a business.  Get the money you need when you need it – simply by asking for it.  Page 11
Best of all, the money you withdraw – whether you use it for purchases or investments – continues to earn interest and dividends just as if you never took it out!  Sounds unbelievable – but you'll see exactly how it's done on page 12


If you feel like you've been doing "all the right things" financially, but have been disappointed time and again, we invite you to join more than 500,000 folks of all ages and incomes who have had it with the hope-and-pray method of financial and retirement planning and opted out of a system where the odds are stacked against you.
Download this FREE Special Report now and take the first critical step towards achieving lifetime financial security and peace of mind.