How to Use Send Out Cards for Your Snail Mail Bank On Yourself Campaigns
You or your assistant import the names and addresses of your clients and prospects (we show you how)
When you get our email saying your monthly client and prospect postcards are ready, customize the done-for-you card with your picture and contact information
Select your group of prospects and send them the prospect card with the click of a button
Select your group of clients and send them the client card with the click of a button
Each time a prospect becomes a client, move them from one group to the other
We've teamed with Send Out Cards to create the finest, easiest-to-use most automated real mail system we know of to …
Give you top-of-mind positioning with your prospects and clients
Build trust, credibility, and personal name recognition
Help you keep your promise to stay in touch and follow up
Educate your clients, and offer them additional services and policies
Give your prospects compelling reasons to contact you for an Analysis
Help you get more referrals
How to Use Send Out Cards for Your Snail Mail Bank On Yourself Campaigns
You or your assistant import the names and addresses of your clients and prospects (we show you how)
When you get our email saying your monthly client and prospect postcards are ready, customize the done-for-you card with your picture and contact information
Select your group of prospects and send them the prospect card with the click of a button
Select your group of clients and send them the client card with the click of a button
Each time a prospect becomes a client, move them from one group to the other
Why real mail?
Snail mail is an incredible, underutilized marketing tool
As more businesses switch to email, real mail is more effective than ever, while email marketing is lagging far behind; many emails are never delivered or opened
How this will help you build your practice
We give you an easy-to-use system
We write fresh, effective copy and marketing pieces for you
We give you simple, step-by-step instructions to help you get your system up and running fast
You can choose to automatically send new clients—or anyone else, for that matter—a gift, everything from brownies to gift cards to Starbucks cards and more
What will I pay?
If you already have a Send Out Cards account, your only additional cost, besides what you to pay to send cards, is $25 per month for the copywriting services and campaign creation services of Pamela and her team
If you do

not

already have a Send Out Cards account, the $25 per month is

waived

. Just set up a Send Out Cards account using the special link we'll give you shortly. We'll show you how to set up your account.
Send Out Cards pricing is simple and extremely reasonable:
The Send Out Cards system uses points as its currency. You purchase points, which you can redeem for various types of cards including the 4" x 6" postcards we use in the Bank On Yourself program.
You also use points to cover the cost of gifts (everything from brownies to jewelry) you may send.You set up a separate account, called an Expense Fund, to cover postage and the cost of gift cards.
Using the plan we recommend, the cost for each full-color postcard, which you can customize with your photo, name, address, phone number, and email address is just 39¢, plus postage.
Here are the available plans: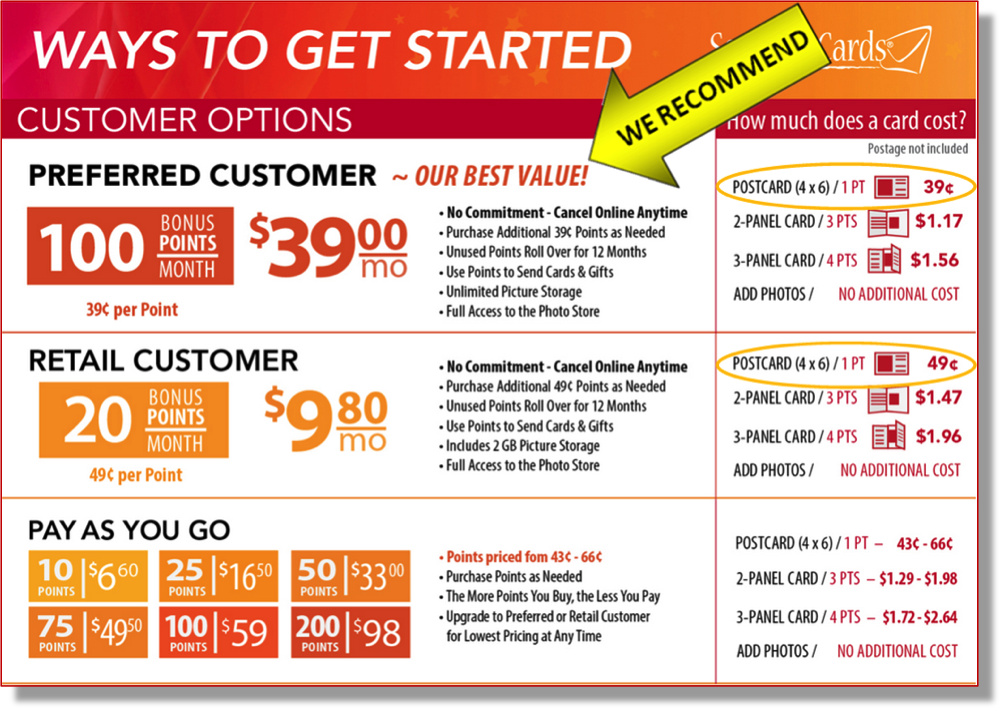 We recommend the "Preferred Customer" subscription option at $39.00 per month. You get 100 points each month—enough to purchase 100 postcards (1 point each), or about 33 greeting cards (3 points each). These points cost you 39¢ each.
The "Retail Customer" subscription option is $9.80 per month. You get 20 points each month. These points cost you 49¢ each.
Both plans let you carry unused points forward for 12 months.
There is also a "Pay As You Go" non-subscription option, which we do not recommend for regular use, because the points are significantly more expensive.
You have to ask yourself,
How few additional policies would I need to write to make this program more than pay for itself?"
Your Next Steps
Complete the information below to sign up for the Bank On Yourself program. If you already have a Send Out Cards account, be sure to include your Send Out Cards number.
Click the blue "SIGN ME UP!" button, then download our step-by-step instructions, "What to Do Now to Put Your Campaign into High Gear." That document will tell you what web special address you

must

use if you wish to have the $25 per month campaign fee waived when you set up your set up your Send Out Cards account.