Determined to keep your business humming along during this gut-wrenching economy?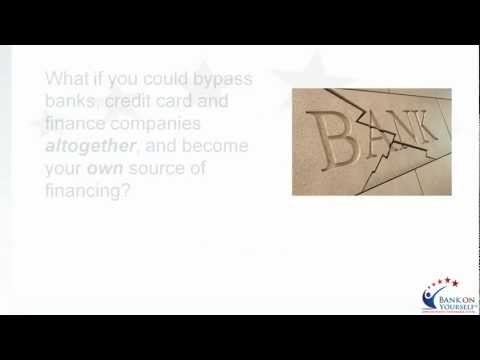 This video reveals how it works and includes a case study.
Roll up your sleeves and go for it.
But just know this: Winning during hard times takes more than gumption. And today it can be a real challenge to get capital to finance your business purchases.
Some banks seem to have their money on an indefinite lock-down. A heart-stopping reality for many business owners.
But don't sweat it.
You can use the Bank On Yourself method to start or grow your business, even when no banker will loan you a dime. It may surprise you that famous business owners have used this method, including Walt Disney and J.C. Penney.
Seize control over your business finances and fire your banker and finance company. The Bank On Yourself concept can be used to finance business vehicles, equipment, office buildings and more – and recapture the interest you'd otherwise pay to finance institutions.
Want to find out how your business could benefit from Bank On Yourself?
You can use this method to:
Expand your business
Add equipment or technology that puts you ahead of your competition
Hire needed employees, so you can take your business to the next level while having more time to enjoy your life and your family
Grow your retirement savings safely and predictably – with no government restrictions or penalties on when or how much income you can take from the plan
Take an income stream in retirement with little or no taxes due, under current tax law
Business owners profiled in Pamela Yellen's best-selling book have also used the Bank On Yourself concept for many different purposes, such as to…
In addition, business owners use the Bank On Yourself concept for "Executive Bonus" plans, to attract and reward key employees. It gives you flexibility that 401(k)s and many other traditional retirement plans don't have, because it allows you to bonus employees different amounts (from zero to whatever amount you chose).
Read: Small Business Owners Turn to Whole Life Insurance and Other Alternative Financing Options to Overcome Tight Credit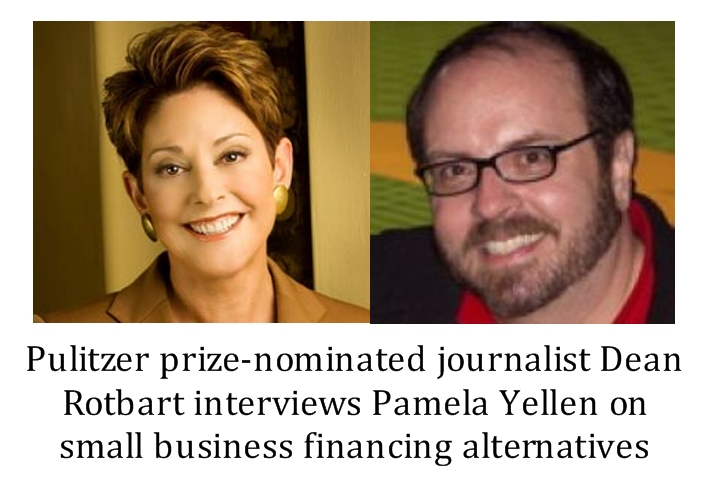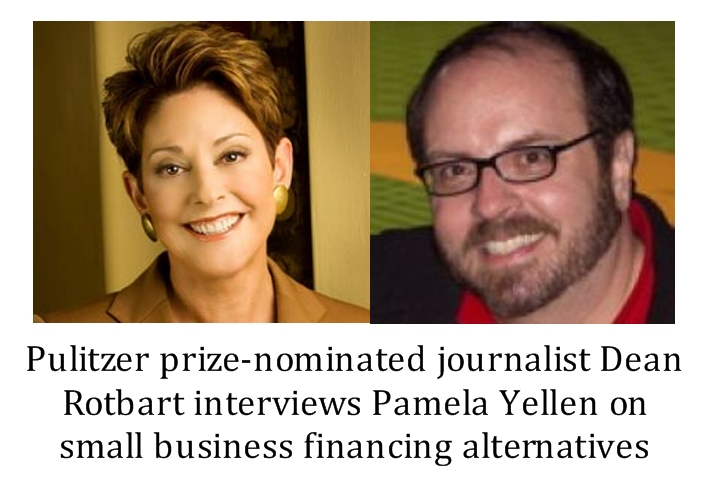 Listen: Pulitzer Prize-nominated investigative reporter Dean Rotbart interviews Pamela Yellen on how small business owners can use Bank On Yourself to prepare for the next inevitable economic downturn.
You can listen to the podcast by pressing the play button below, or you can download the interview as an MP3 and listen on your own player or iPod…
How does your business financing or leasing strategy compare?
Learn how the Bank On Yourself concept beats the pants off of traditional investment strategies. And take us up on our $100,000 Challenge: If you use a different strategy that can match or beat Bank On Yourself, we'll pay you $100,000!
Then find out the bottom-line results you could get by adding Bank On Yourself to your business financial plan. Fill out the simple Business Owner Analysis Form and we'll put you in touch with a Bank On Yourself Professional (a life insurance agent with advanced training on this concept) with expertise in working with business owners and professionals right away.
Find a Bank On Yourself Professional.
Other Benefits of Bank On Yourself:
More than 500,000 people are enjoying these benefits today because they have rejected the conventional financial "wisdom" and are now in control of their financial well-being. Bank On Yourself was established in 2002 to educate Americans about this proven way to have a rock-solid financial plan, with no luck, skill or guesswork required.
Wondering where you'll find the money to Bank On Yourself? There are at least eight ways to do this, so don't rule yourself out for that reason.
How To Receive Your FREE Business Owner
Analysis and Recommendations
Please have a Bank On Yourself Professional contact me as soon as possible, so I can receive my FREE No-Obligation Analysis that will show me how Bank On Yourself can help me reach my business and personal goals and dreams. Sorry… this service is available to U.S. residents only.
Note: The fastest way to request your Analysis is by submitting this form. A Bank On Yourself Professional will contact you by phone or email within 2 business days. Prefer to download this PDF form and fax or mail it back?
FREE Analysis and Recommendations
By submitting this form, you authorize Bank On Yourself and a Bank On Yourself Professional to get in touch with you at the contact information you provided above regarding your Free Analysis and related information. Bank On Yourself will treat the personal information you submit as confidential and will not share, rent, sell or disclose the information to anyone outside of its internal representatives or Professionals except as necessary for Bank On Yourself to process your request or as required by law. You also authorize Bank On Yourself to send you timely briefings and recommendations to critical news and events that may impact your finances. Each briefing has a clearly marked unsubscribe link that is respected. By submitting this form, you certify that you are age 18 or older. Bank On Yourself Professionals will provide independent recommendations, which may or may not be based on the educational information provided by Bank On Yourself. To preserve your confidentiality, Bank On Yourself cannot monitor or control the recommendations made by Bank On Yourself Professionals, and shall not be held liable for any recommendations made by any Bank On Yourself Professional.