Grow your nest-egg every day – whether stocks go up, down or sideways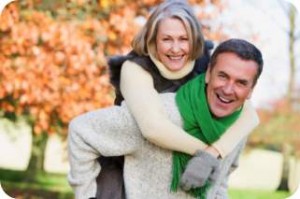 Do you know how much your retirement account will be worth in 10 years, 20 years, or on the day you hope to tap into it?
If you're saving for retirement the way most people do, you don't have a clue! You may hope it'll be worth a certain amount, but do you actually know how much you can count on having at any given point in the future?
If you can't answer that question, you don't have a plan! You're gambling.
Will you outlive your money?
The typical household nearing retirement has an average of only $135,000 in their combined retirement accounts, which will provide them at most $600 per month (Source: Federal Reserve Survey of Consumer Finances)
Many people say they plan to work longer to pay for retirement, however about half of all people who retire are forced to do so earlier than planned, due to sickness, layoffs, or the need to take care of a loved one (Source: Employee Benefit Research Institute)
Surveys show most Americans are scared to death of outliving their money – and for good reason: They have the majority of their savings invested in the volatile, unpredictable stock market.
Yet they continue to hold on to the hope that the Wall Street Casino will make them wealthy – if only they stick with it long enough.
Hogwash! The only thing Wall Street guarantees you is that they get paid whether you win or lose!
Wall Street has been astonishingly successful in brainwashing us into believing we have to risk our money in order to grow it.
Here's what the Wall Street fat cats are desperately hoping you don't figure out: You can bypass Wall Street altogether and grow your wealth safely and predictably every single year – even when stocks, real estate and other investments tumble.
A retirement savings strategy you can truly count on
The Bank On Yourself method uses a supercharged variation of an asset that has increased in value during every single market crash and in every period of economic boom and bust for more than 160 years – dividend-paying whole life insurance.
But this is NOT the kind of whole life policy Suze Orman, Dave Ramsey and other financial "gurus" talk about.
With this little-known variation, you don't have to die to "win." And it can beat the pants off of traditional saving or investing strategies.
Get instant access to the FREE 18-page Special Report, The Ultimate Wealth-Building and Retirement Strategy, plus timely briefings and solutions to critical news and events that may impact your money and finances.
The Bank On Yourself method lets you:
Get instant access to the FREE 18-page Special Report, The Ultimate Wealth-Building and Retirement Strategy, plus timely briefings and solutions to critical news and events that may impact your money and finances.
Never again suffer another losing year in your financial plan… or even a single lost day
Look forward to opening your account statements, because they always have good news and never any ugly surprises
Grow your savings by a guaranteed and predictable amount every year
Fire greedy bankers and credit card companies and become your own source of financing – get access to money when you need it on your terms by answering just one question: How much do you want?
Have a financial safety net to see you through life's inevitable challenges and emergencies
Enjoy true financial security that comes from knowing you have a rock-solid financial foundation and a chunk of your hard-earned dollars in a plan that goes in only one direction – UP
Have the peace of mind that comes from knowing the answer to the question, "Do you know what your retirement account will be worth on the day you plan to retire?"
Work with a qualified Professional to map out your retirement in a logical step-by-step process
Request Your FREE Analysis and Find Out Your Bottom-Line Numbers!
No two Bank On Yourself policies are alike – yours would be custom tailored to help you reach as many of your short-term and long-term goals as possible. There's no obligation and no one is going to twist your arm. So take the first step and request your FREE Analysis now, while it's fresh on your mind!




When you request your Analysis, you'll receive a referral to one of only 200 financial representatives and insurance agents in the country who have met the rigorous training and requirements to be a Bank On Yourself Professional. These Professionals are masters at helping you find money you didn't know you had to fund your plan.
How does your retirement plan compare?
Our team has done their homework. Now it's your turn. Learn how the Bank On Yourself concept beats the pants off of traditional investment strategies. And a $100,000 cash reward is waiting for the first person who has a different strategy that can match or beat the advantages of Bank On Yourself.
Would you like to find out what your bottom-line numbers and results could be if you added Bank On Yourself to your financial plan? Simply request a FREE analysis here.
Other Benefits of Bank On Yourself:
More than 500,000 people are enjoying these benefits today because they have rejected the conventional financial "wisdom" and are now in control of their financial well-being. Bank On Yourself was established in 2002 to educate Americans about this proven way to have a rock-solid financial and retirement savings strategy, with no luck, skill or guesswork required.
Wondering where you'll find the money to start to Bank On Yourself? There are at least eight ways to do this, so don't rule yourself out for that reason.
Discover The 6 Costly Pitfalls and Traps of Conventional Retirement Plans: