The Numbers and Facts:
9.94%

Equivalent annual return with no market risk using Bank On Yourself

160+

Number of years in a row this strategy has delivered positive annual growth

Learn How
Learn More
500,000+

Number of families and businesses Bank On Yourself has helped

7

Reasons why Bank On Yourself
is the real deal

Learn Who
Learn Why
Want to learn more? Download Your FREE Report

Watch this video and discover how to bypass banks and Wall Street altogether!
Have you been doing all the "right things" financially that you've been taught to do, but you've been disappointed again and again? If so, you're not alone:
Wall Street lost more than 49% of the typical investor's money – TWICE – just since the year 2000. It could easily happen again in the next five to ten years… or even tomorrow
The only guarantee Wall Street gives you is that they get paid whether you win or lose
The typical household nearing retirement has an average of only $111,000 in their combined retirement accounts, which will provide them at most $500 per month – not even enough to cover groceries, let alone health care, heating, transportation and other daily necessities 1
If you're like most people, you don't have a clue what your retirement account will be worth on the day you plan to tap into it – but it doesn't have to be that way!
Watch this video and discover how to bypass banks and Wall Street altogether!
The Best Way to Invest for Safety, Liquidity, Flexibility, Control and Tax Advantages
Hundreds of thousands of people have opted out of a system where the odds are stacked against you and are using the Bank On Yourself method to achieve life-long financial independence and security. See how folks of all ages and incomes are using Bank On Yourself.
Bank On Yourself lets you bypass Wall Street, beat the banks at their own game and – finally – take control of your own financial future. It can help almost anyone – regardless of age, income or financial sophistication – reach their financial goals and dreams without losing sleep. However, if you spend more than you make, this is not for you. And if you're looking for a get-rich-quick scheme, you will surely be disappointed.
What is the Bank On Yourself Method?
Bank On Yourself uses a little-known super-charged version of an asset that has increased in value during every single market crash and in every period of economic boom and bust for more than 160 years – dividend-paying whole life insurance.
Get Your FREE Report!
Get instant access to the FREE 18-page Special Report, The Ultimate Wealth-Building and Retirement Strategy, plus timely briefings and solutions to critical news and events that may impact your money and finances.
Yes, we said whole life… but not the kind most financial advisors and experts like Suze Orman and Dave Ramsey talk about! With this variation, you don't have to die to "win." It requires a dividend-paying whole life insurance policy with some features added on to it that maybe one in 1,000 financial advisors understands. A large portion of your premium goes into two riders or options that make your money in the policy grow significantly faster than a traditional whole life policy, while reducing the commission the agent receives by 50-70%.
This concept is widely known as "Bank On Yourself," however, as it has grown in popularity, you may hear it referred to as the 501(k) Plan, the 702(j) plan, the 770 bank account, become your own banker, Infinite Banking®, income for life, invisible bank account or the President's Account.
NOTE: If your policy isn't structured properly, it could grow much more slowly, lose the tax advantages, or both. Only 200 advisors in the U.S. and Canada have passed the rigorous training and requirements to be a Bank On Yourself Authorized Advisor. They know how to structure these policies right and which companies offer the best policies for maximizing the power of the Bank On Yourself concept. You'll get a referral to one of these advisors when you request a FREE Analysis.


5 Key Benefits of Bank On Yourself…
How to Get Started…
Discover the step-by-step process for getting started with Bank On Yourself. Wondering where you'll find the money to fund a plan? Here are eight ways to do that.


A Bank On Yourselfer Success Story
The chart below was sent to us by a "Bank On Yourselfer" and shows how much his family's net worth has grown since he got out of the stock market and started his first Bank On Yourself policy 3-1/2 years earlier, compared to the previous ten years of rolling the dice in the Wall Street casino.
Why would someone be willing to share something as personal as his net worth for the whole world to see? In his words…
If I can help a few people start Bank On Yourself this year, instead of next year or instead of never, then it's well worth it."

Dan Proskauer, Boston
Note: Place your mouse over this chart to see a more detailed version of it…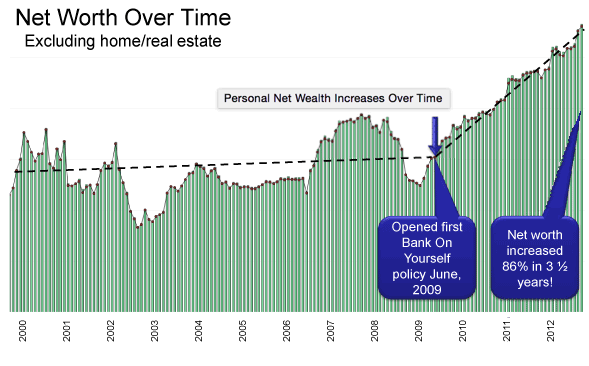 He says he loves having a great place to put his income (his Bank On Yourself plans) where he no longer has to worry about losing it to the "randomness of the market." And that's something we consistently hear from folks who use Bank On Yourself – saving money is a lot more fun and motivating when you don't have to worry about losing it or what effect the events of the day will have on your hard-earned dollars!
You can get all the details when you listen to or read the interview we did with this subscriber.
Take the $100K Challenge! Bank On Yourself is offering a $100,000 cash reward to the first person who can show they use a different strategy that can match or beat the advantages and guarantees of Bank On Yourself!
How to Take Control of Your Financial Future…
Find out how you can join the Bank On Yourself Revolution and enjoy real wealth and financial security for as long as you live. Request your free, no-obligation Analysis that will show you how much your financial picture could improve if you add Bank On Yourself to your financial plan.


About Pamela Yellen

Bank On Yourself founder Pamela Yellen is a financial security expert and author of the New York Times best-seller, The Bank On Yourself Revolution. She investigated over 450 financial products and strategies in her search for an alternative to the risk and volatility of traditional investments. She has appeared on every major TV and radio network, and her articles and interviews have appeared in thousands of publications and websites. Get to know Pamela Yellen.
1 Federal Reserve Survey of Consumer Finances
2 Tax laws may change