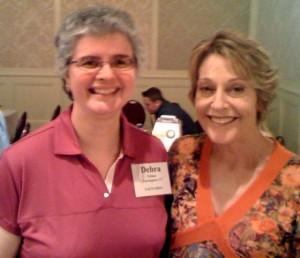 When she learned about the Bank On Yourself savings method, Debbie Wilder had to first convince herself and later her husband that they really could use it to grow their savings.
Bank On Yourself uses specially designed dividend-paying cash value whole life insurance policies to create secure savings plans for individuals and families. As the cash value in the policies grows, families can use it to finance major purchases such as college, cars or vacation and recapture interest they would otherwise pay to financial institutions.
"Bank On Yourself seemed the proverbial 'too good to be true,'" says Debbie, 45. The West Hartford, Conn., mother of two school-aged children works part time as an administrative assistant and, since she became a believer, as a Bank On Yourself associate.
"I didn't just jump right in," she says. "I peppered my Bank On Yourself Professional for nearly four months with every question I could think of before I was comfortable enough to start our first plans."
Debbie and her husband Andrew, a senior account executive for a local radio station, "have always been big savers," she says. But they had become tired of the volatile and unpredictable stock market wiping out their hard-earned money, and started looking for a more secure savings plan with high growth potential.
We did everything we could – maxing out our 401(k)s, IRAs, using Roth IRAs, investing in municipal bonds, mutual funds, and stocks, we were up only 2 percent TOTAL (not yearly) from March 1996 to June 2006. Our Bank On Yourself policies never go backwards and the increases are guaranteed and predictable. We are excited to watch our policies grow."
Debbie talked with Alan Eckstrand, a Bank On Yourself Professional who covers much of New England. After becoming sold on the plan, she had to convince her husband that this was the way for them to save. So they started buying Bank On Yourself policies. After two years they were able to borrow money from the policies to buy a new car and pay off $60,000 remaining on their mortgage. She loves that they will never have to worry about a bank foreclosure or a car being repossessed.
"We had 12 years left on a mortgage but we are paying ourselves back over 15 years and at a higher percentage rate," she says, adding: "There is a lot of creative financing you can do for yourself."
"Now if my husband loses his job, we know we are safe from any creditors for our car and home. We are no longer talking about how badly we are doing for retirement because BOY is a significant part of it."
Now after five years they own 13 Bank On Yourself-type policies.
The more policies you have, the more breadth you have to your financing system, because you have lots more cash value, lots of places to put more money, and ultimately you get more dividends"
Debbie became such a believer in Bank On Yourself that she now works part time for Eckstrand, helping him as a first contact for potential clients. In addition, she is creating a detailed procedural manual to help his ever-growing business.
People generally hear about Bank On Yourself (BOY) through radio programs, advertisements or word of mouth. They usually contact the office of Bank On Yourself President Pamela Yellen and are put in touch with a BOY Professional in their area. People referred to Eckstrand now talk first to Wilder. "It is my job is to help you become comfortable with the Bank On Yourself concept," she says.
As a former skeptic, she can answer many of their questions. The biggest hurdle remains convincing people that it really works as advertised.
"Most people think if you want to get any type of reward you have to take a lot of risk," she says. "You can put your money in a CD and get a reward but it is very small. This is a longer-term approach. You can use it for an infant, for a 40-year-old or a 70-year-old. Each plan has a customized design for that particular person and financial situation."
Before starting their Bank On Yourself policies, Debbie says she and her husband had a hard time building a retirement nest egg, even though they did everything conventional wisdom said to.
Like many Americans, they saw almost half of their 401(k) investments evaporate in the 2008 crash.  They still have the 401(k) but no longer contribute to it, putting all their savings in their Bank On Yourself policies instead.
The biggest benefit, she says, is peace of mind.
"It has helped us remain calm through the recession and allows us to live our regular lifestyle without fear of losing our retirement," she says. "Ultimately, the best way it has helped us is giving us a retirement cushion and peace of mind. Although we still care how the stock market is doing, it no longer puts us into a fear mode when it tumbles."
And what if the stock market crashes again?
"We know that, because of our Bank On Yourself policies, if the stock market crashes on the day we retire, we will still have enough money to live on," Wilder says. "That is very important to us."