The Ultimate Wealth-Building
and Retirement Strategy…
Whether the market goes up, down or sideways™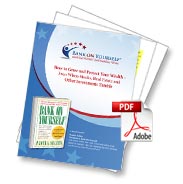 Get instant access to my FREE 18-page Special Report,
The Ultimate Wealth-Building and Retirement Strategy
, plus timely briefings and solutions to critical news and events that may impact your money and finances.
NOTE: Your name, email address, and contact information will NEVER be shared, sold, rented, traded, or abused in any way. The timely briefings are delivered 2-4 times a month and each one contains a clearly marked unsubscribe link which is respected.