We had some terrific comments made on our response to Allan Roth's CBSNews.com MoneyWatch review of the Bank On Yourself book. Many of the comments were posted by people who have been using the Bank On Yourself concept for some time. These are people who have first-hand experience using the specially designed dividend paying whole life insurance policies on which the Bank On Yourself method is based.
I hope you'll take a little time to read the comments at the end of the post, which are very insightful and further prove that Allan Roth sped right past the solution he himself said he was seeking.
It takes courage and wisdom to turn your back on the conventional financial wisdom that has caused so much financial insecurity and pain for so many. We commend all of our subscribers who have bypassed banks and Wall Street and now have the financial security, flexibility and control that had previously eluded them.
If you haven't yet begun to Bank On Yourself, find out what you're missing when you request your free Analysis.
Now here's the list of winners…

Each of the following posters won their choice of a $25 dining gift certificate or a personally autographed copy of my best-selling book: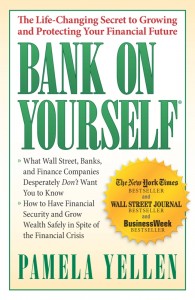 JG
Mark Stanley
Luis
Lizette Spatt
Russell Whipple
William (Bill) Williams
Mark Willis
Jason
Derek Logan
Scott
John Chiappetta
Mark Stanley
Thanks again to everyone who participated!