I've just been named one of the 30 most influential people in personal finance and wealth, and I wanted to share the exciting news with you!
Starting with a field of more than 1,000 finance experts, the study (commissioned by MoneyTips) used a rigorous process to score and rank each expert to whittle it down to a ranked list of the top 30 influencers in wealth and personal finance.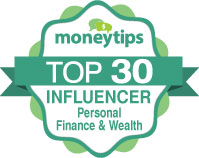 I'm ranked #19 on this list of the Top 30 social influencers impacting Americans' financial lives.
The list was published last week on the Huffington Post, titled, What the Top 30 Personal Finance/Wealth Influencers Know That You Don't. I was also one of a handful of the top experts quoted in the article.
I am very gratified by this acknowledgement. For the past decade I've devoted my life to educating people about alternatives to traditional investing and retirement planning that have enabled hundreds of thousands of people to stop using the crystal-ball-hope-and-pray method of financial planning and start knowing how good their financial future can be.
And I've learned several important lessons along the way – I'll share the most important one with you in a moment.
[Read more…] "Pamela Yellen Named Top Personal Finance Influencer"