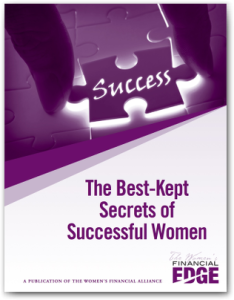 I was really excited when one of the largest consumer newsletter publishers in the world, Agora Publishing, asked me to be the Editor-In-Chief of The Women's Financial Alliance, a new publishing franchise dedicated to helping women grow their wealth safely and enjoy a richer lifestyle.
We launched a free e-letter – The Women's Financial Edge – at the beginning of May, and it's being extremely well received. We've already been featured in USA Today, CNBC, Huffington Post, The Detroit Free Press and more.
If you haven't already subscribed, you can do so here right now. And when you do, you'll be able to instantly download our Bonus Report, The Best-Kept Secrets of Successful Women.
This Report contains 28 powerful, easy-to-implement strategies and tips for saving more, avoiding costly financial mistakes, saving a relationship, gaining a career advantage most men will never have, getting more done in one day than most people do in a week, losing weight effortlessly, and much more! (Get this Report instantly when you sign up to receive the Women's Financial Edge here.)
Perhaps you're wondering…
Do Women Really Need or Want Different Financial Advice than Men?
Good question! And one I asked myself when I was first offered the position of Editor-In-Chief of this new publication. That got me doing a lot of research, and I was surprised by what I discovered…
Men really are from Mars and women from Venus when it comes to how we learn and think about money, make decisions about it, invest it, and why it's important to us.
It's a scientific fact: Women's brains are simply wired differently from men."
It's not just the fact that women face a unique set of challenges when it comes to meeting their financial goals. We live longer, spend fewer years in the workforce, get consistently smaller paychecks, invest more conservatively, and on average have accumulated 40% less savings than men. Which means…
Women Are Simply at Greater Risk of Outliving Their Money
Recent research shows that women today feel no more prepared to make wise financial decisions today than they did a decade ago.
While 75% of the American women surveyed said having enough money to maintain their lifestyle throughout retirement was very important, only 14% were very confident they will meet that goal. And just 20% said they feel prepared to make smart money moves.
Nothing else like The Women's Financial Alliance exists. The number one goal of our team of experts is to see that you have the knowledge, resources and tools you need to attain confidence and peace of mind with your finances. So you won't have to worry about outliving your money or being a burden on your children.
In The Women's Financial Edge, I also share some life-saving and life-changing discoveries I've made that I have never shared publicly before."
While our new e-letter is focused on women, that doesn't mean men can't benefit from the information we're providing. We welcome men as subscribers (about a quarter of our readers are men), and they tell us they find the information invaluable. But just be warned: Golfing, football, and fishing won't be part of our agenda.
I invite you to join our community, download your free Bonus Report, The Best-Kept Secrets of Successful Women, and see what the excitement is all about for yourself. Just go here to get started.