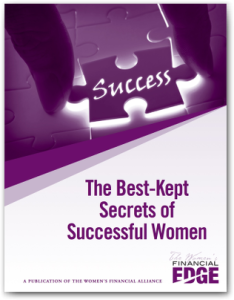 I was really excited when one of the largest consumer newsletter publishers in the world, Agora Publishing, asked me to be the Editor-In-Chief of The Women's Financial Alliance, a new publishing franchise dedicated to helping women grow their wealth safely and enjoy a richer lifestyle.
We launched a free e-letter – The Women's Financial Edge – at the beginning of May, and it's being extremely well received. We've already been featured in USA Today, CNBC, Huffington Post, The Detroit Free Press and more.
If you haven't already subscribed, you can do so here right now. And when you do, you'll be able to instantly download our Bonus Report, The Best-Kept Secrets of Successful Women.
This Report contains 28 powerful, easy-to-implement strategies and tips for saving more, avoiding costly financial mistakes, saving a relationship, gaining a career advantage most men will never have, getting more done in one day than most people do in a week, losing weight effortlessly, and much more! (Get this Report instantly when you sign up to receive the Women's Financial Edge here.)
Perhaps you're wondering…
Do Women Really Need or Want Different Financial Advice than Men?
Good question! And one I asked myself when I was first offered the position of Editor-In-Chief of this new publication. That got me doing a lot of research, and I was surprised by what I discovered…
[Read more…] "A Special Message for Women Who Want to Be Financially Independent"