Those of us who remember the 1960's TV action series, Batman, recall how the caped crusaders defended Gotham City from super villains. At the very instant our heroes had their backs to the wall, the announcer would urge us to "Tune in next week. Same Bat Time – Same Bat Channel" for the continuation of the episode.
As we sit ten years out from the financial crisis, it feels like we're at a similar juncture in the story of the U.S. economy. It has literally picked up where it left off – with the usual suspects and the same, unsuspecting victims.
If history is any guide, we're on track to experience another economic downturn, triggered by similar conditions – with a similar outcome.
On a visit to Fortune magazine back in July of 2007, Treasury Secretary Hank Paulson declared, "This is far and away the strongest global economy I've seen in my business lifetime."
A Year Later, We Were in a Global Financial Crisis Many Consider to Have Been the Worst Since the Great Depression

While the immediate cause of the Great Recession was the subprime mortgage collapse, American households took on record levels of debt prior to the downturn which set the stage for financial frailty. According to the St. Louis Fed, in the early 2000s, mortgages, charge card balances, auto financing, and student loan amounts all increased at a frantic pace, hitting a historic peak in 2008.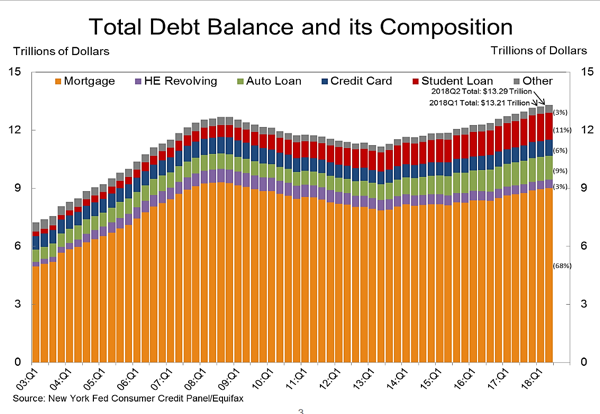 Household debt subsequently fell to era lows in 2013, but only after a complete and utter economic breakdown – which caused unimaginable pain as many lost their jobs, their homes, and their retirement savings.
Same Debt Time. Same Debt Channel!
Current Treasury Secretary Steve Mnuchin told Fox Business Network this past April, "I think the economy is doing fabulous … we're well on our way to sustained growth."
"Holy 'here we go again' Batman!"
Americans soon forgot the lessons they learned, and in 2017, household debt surpassed 2008 levels, hitting an all-time high of $13.1 trillion. And it's been rising for 16 straight quarters.
Mortgages represent the bulk of liabilities, but student loans and auto loans have both reached new highs and are experiencing surging delinquencies. And for the first time since the financial crisis, more consumers with below-average FICO scores are again gaining access to financing, namely in the form of charge cards.
Surprise! You ARE Your Brother's Keeper. Why Does Someone Else's Car Loan or MasterCard Balance Impact You?
Because soaring household debt is a threat to banks, lending institutions, the markets, and consumers at large. It poses a systemic risk to the economy. Think about it – you may not have lost your home or your life savings during the financial crisis of a decade ago, but you were undoubtedly impacted by all those poor folks that did!
The events of 2008 clearly demonstrate that when U.S. consumers are over-leveraged and holding mounds of debt, the economic foundation of the entire country is at risk.
A Lost Decade of Critical Lessons. Unfortunately, the bank failures, market meltdowns, home foreclosures, and massive evaporation of personal wealth of a decade ago have failed to positively change our relationship with money.
We continue to borrow too much and save too little – and the economy again sits on a hair trigger of an "any given moment" downturn
Today, ten years later, the Wall Street villains, corrupt institutions, and predatory lenders have retained their starring roles in the current economy. The Penguin, the Joker, and the Riddler are alive and well, and it's time to fight back. Kapow!
A Bank On Yourself Plan is a Powerful Way to Protect Your Nest Egg from the Arch-Enemies of Financial Security…
A Bank On Yourself-type high-cash-value dividend-paying whole life policy comes with a compelling combination of safety nets and fiscal advantages, which include:
Guaranteed, predictable growth every year – even when the markets are crashing
Liquidity and control of your money – for you "when you want it and for whatever you want it" flexibility, no questions asked
The backing of a five-layer safety net
160 consecutive years of winning
The ultimate financial security blanket in both good times and bad®
During the last financial crash – and during every economic crash for well over a century – Bank On Yourself saved hundreds of thousands of folks from financial ruin.
Request your free, no-obligation Analysis here right now.
We've seen this show before, and we know how it ends. Take 3 minutes to find out about the benefits of the Bank On Yourself strategy so you can set your money free, preserve your slice of the American dream, and secure your financial future:

"Of what use is a dream – if not a blueprint for courageous action."
– Adam West, the original Bat Man