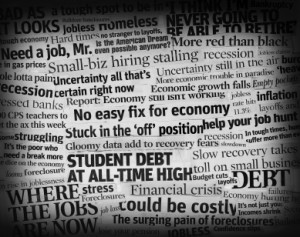 People concerned about the declining value of the dollar have been asking us how that might affect the value of Bank On Yourself policies. Some have even asked if they can buy policies in other currencies.
The frequency with which we've been receiving these questions seems to be picking up recently.  And I believe the reason for that is the endless parade of financial advice-givers who are all too happy to take your U.S. dollars to tell you why those dollars will be worthless… and why our economy is on an unavoidable collision course with destruction.
These merchants of gloom and doom appear to have one goal in common: To so paralyze you with fear that you let them do your thinking for you as you rush to take their advice.
Good Advice?
These merchants of gloom and doom appear to have one goal in common: To so paralyze you with fear that you let them do your thinking for you as you rush to take their advice.
I won't insult your intelligence by doing the same.
What I will do is pose some questions designed to help jump start your powers of critical thinking.
You see, I've been studying the newsletters, videos, and articles churned out by these doomsayers.  Some of the information in them is well researched, although the conclusions they draw from it can be a stretch.
But the problem is not so much with any facts or statistics they may quote.  It's what they leave out that concerns me.
So I'll hope you'll take a few moments to ponder these questions, before rushing to take the advice of these prophets of doom…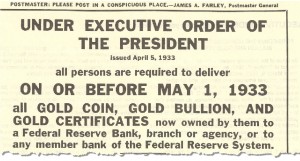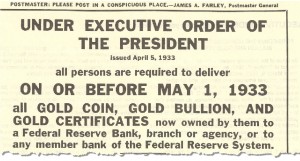 1. If you buy gold or gold bullion, are you guaranteed that the U.S. government won't confiscate it, as they did in 1933?  If you've never seen that executive order, here's a copy of it – it makes fascinating reading.
2. If you try to store your gold stash in a bank vault in a foreign country in an attempt to get it out of the reach of our government, are you guaranteed that the U.S. won't force that country to reveal your identity and holdings, as has already happened?
3. If you store your gold, silver or other precious metals offshore, are you guaranteed that country won't decide to confiscate it?  Or that the U.S. might prohibit you from bringing it into the country or levy an enormous tax on you for doing that?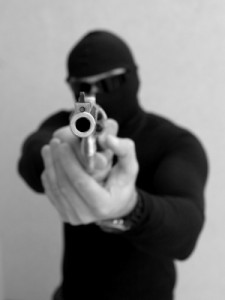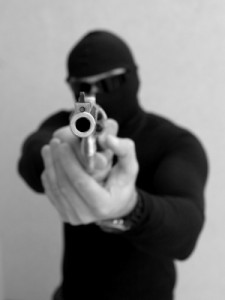 4. What if the dollar becomes so worthless that you have to buy your bread, milk and other essentials with gold or silver?  Are you guaranteed that, on your way to the store to exchange your pocketful of precious metals, you won't be robbed at gunpoint by one of the many marauding gangs who now roam the streets with miniature metal detectors?
5. Are you guaranteed that the value of your precious metals won't get wiped out if some tycoons who are a lot smarter and more powerful than you decide to manipulate or corner the market?
Does this sound familiar?
Inflation had destroyed their faith in the dollar so… they began putting ever more of their wealth into a 'harder' currency (until) they allegedly controlled almost two-thirds of the world's privately held supply of the shiny metal."1
The quote is from the May 12, 1980 issue of Time Magazine, published shortly after the Hunt Brothers "silver-buying activities triggered the worst financial panic in nearly 20 years." 1
6. After the gold, silver or other (take your pick) mania ends, as it surely will, are you guaranteed the asset you thought was going to be your hedge won't plunge in value and not recover for decades?
Example:
Gold hit a high in 1980, then plunged and did not return to that level until 2006 – a full 26 years later! However, on an inflation-adjusted basis, gold would have to be over 2,500 today to have the same purchasing power it did 31 years ago. In spite of gold's recent meteoric rise, that's still more than $1,000 an ounce more than where it is today!

If history repeats itself – as it has a way of doing – will you be able to hold out for three or more decades for your assets to recover in value if necessary?
7. If you buy other currencies as your defense, are you guaranteed those currencies will remain strong and won't be manipulated or de-valued by governments or wealthy cartels?  This happens every day by governments, both large and small.
If you take even a few minutes to think about questions like these, it's pretty clear that there are many things we simply can't control or predict.  And there are few guarantees.
So, if you can't control or predict the future, what CAN you do?
The good news is that there are things that every American can do today to take back control of your own destiny.  Here are four of them:
1.  Don't let "them" do your thinking for you
Ask critical questions, use your common sense and trust your gut.
2.  Stop relying on others to provide your financial security
The signs are all around us that in the future, we will be able to rely less and less on the government, failing social programs and our employers.
The sooner you prepare for this likelihood, the more control you will have over your life and the greater your peace of mind will be.
The average American is saving only 5% of their income today.  Start bumping that up until you get to at least 15% – and preferably 20%.  And do not invest any money you can't afford to lose or that you might need to live on in the next 20 years.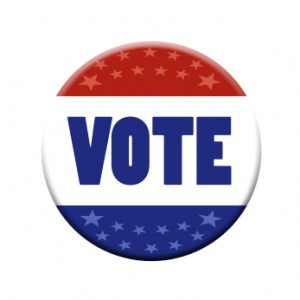 Avoid the trap that many Americans have already fallen back into of spending more, saving less and carrying credit card debt.
3.  Make yourself heard
If you're unhappy with the direction our country is going, stop bemoaning it and start creating the future you want.
The budget cuts that were agreed on in eleventh-hour Congressional negotiations last week represent the biggest annual budget cut in history.  It's not enough, but it's a start.  And it happened because the American people spoke up and made themselves heard.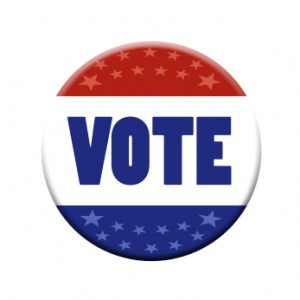 So, write, call or email your Congressional reps today.  And exercise your right to vote – every vote does count.
believe in a better future…
I believe America's best days are still ahead. We have faced and overcome enormous challenges in the past. The economic hurdles we face today are daunting, but these will be overcome, too. Because that's what we do!
4.  Consider incorporating the Bank On Yourself method into your financial plan or adding to your portfolio

If we aren't able to avoid a financial doomsday scenario, all bets may be off.
But nothing I have read, heard or researched has changed my conviction that properly designed dividend-paying whole life insurance remains the best place to store your money.
It is, after all, an asset class that has increased in value every single year for over 160 years.
It has stood the test of time since before the first federally issued dollar bill appeared in 1862.2 It's been around since before the dollar became the world's reserve currency in the 1940's.3 And it existed before the gold standard was officially instituted with the passage of the Gold Standard Act in 1900.4
The Bank On Yourself method has survived and even thrived during every boom and bust and every economic scenario.  And while no one knows exactly what the future may hold, that's a pretty darn good track record.
Unless you want to move to Fiji – I hear they're going on the coconut standard…
Improve Your Financial Picture…
To find out how much your financial picture could improve if you added Bank On Yourself to your financial plan, request a free Analysis. If you're wondering where you'll find the funds to start your plan, the Bank On Yourself Professionals are masters at helping people restructure their finances and free up seed money to fund a plan that will help you reach as many of your goals as possible in the shortest time possible.  If you already use Bank On Yourself, contact your Professional to determine if adding to your portfolio will help you reach more of your goals and dreams.
1. "Business: Bunker's Busted Silver Bubble", Time.com, May 12, 1980
2."In what year did the U.S. first use paper money?", Answers.com
3.  Bretton Woods System (How the dollar become the world's reserve currency), Wikipedia.com
4. "Gold Standard," By Michael D. Bordo, from The Concise Encyclopedia of Economics