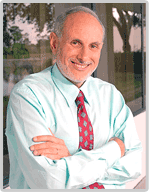 Finance and investment expert and New York Times best-selling author, Martin Weiss, Ph.D., recently interviewed me. You can listen to this fast-paced and timely interview by just turning up your speakers and click here.
Dr. Weiss wrote the subscribers to his "Money and Markets" newsletter about how he had just read my book and felt it has excellent advice on "coping with low investment income in tough times."
So, I hope you enjoy our 35-minute interview.
You can get your personal copy of my book at a 35% discount here.