Protect your hard-earned money!
The markets are crazy and the economy may be unraveling.  We have some important and timely articles, interviews and advice planned in the coming weeks on how to protect your hard-earned money.  Subscribe to our free newsletter today, so you don't miss any of it! You'll also be able to immediately access my new 18-page Special Report absolutely free when you subscribe.
The Dow is down 1,300  points (give or take) in just the last two weeks, plunging more than 500 points today alone
The risk has been increasing daily that we will fall into another recession (if we aren't ALREADY there), making it likely that the volatility in the markets will only continue – and maybe get worse.
If you have money in the stock market and you haven't read the article I wrote on "Why You Need Dow 27,000 Today," I urge you to read it now.
Are you sick and tired of the "hope and pray" method of building wealth?
Do you want to have a nest egg that grows by a guaranteed and predictable amount EVERY single year?
Have you just plain had enough?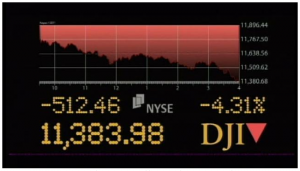 If you answered "yes" to any of these questions, and you haven't already added the Bank On Yourself method to your financial plan, please, please, please – DO NOT PUT IT OFF ANOTHER DAY!
Request a free Analysis now. When you request your Analysis, you'll get a referral to one of only 200 financial representatives in the country who have met the rigorous requirements to be a Bank On Yourself Professional.
The Professional selected for you will be able to answer any questions you may still have and show you exactly how much money you can count on having in your plan at any point in time.
If you don't like what you see, there's no obligation at all and no one is going to twist your arm or try to hard sell you.
But at least you'll know whether Bank On Yourself makes sense for your situation.
Wall Street already lost more than 45% of investors' money – TWICE – just in the last decade
You may not vividly remember the sting of the last crash, but please don't fool yourself into thinking it isn't going to happen again.
More than $2 trillion of wealth has been wiped out in the past two weeks, but NO one lost a single penny in their Bank On Yourself plan. It's an asset that has increased in value EVERY year for more than 160 years and remains the ultimate financial security blanket in both good times and bad.