One of the most-asked questions we got on our recent "Ask the Bank On Yourself Professionals" live online event was when is it "too late" to start a Bank On Yourself plan?
A number of people said things like…
I'm only 10 years away from retiring. Can I still benefit from this?"
In most cases, the answer is "yes." In fact, one of the Bank On Yourself Professionals who presented during the event walked us through a case study of a couple who became Bank On Yourself policy owners at the ages of 59 and 60.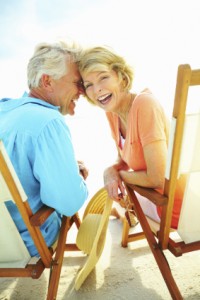 I started my own biggest plan yet last year when I was 61. (Oops! I just gave away my age!) And people older than I start new Bank On Yourself plans, as well.
The Bank On Yourself Professionals are masters at structuring plans to meet their clients' unique situation and goals – and they have a LOT of flexibility in plan design.
But there's also a different kind of Bank On Yourself dividend-paying whole life insurance policy that I call a "Bank On Yourself for Seniors plan."
This involves a one-time lump-sum premium payment, and then you pay no more premiums – ever.
These plans are available for people up to age 85, and even come with a FREE long-term care benefit for stays in a long-term care facility or for home health care, in most states.
To learn how these unique plans work (only two companies that I know of even offer them), you can watch a video and/or read a transcript that explains all the details. You'll also see two very different case study examples to give you an idea of the range of possibilities.
Watch the "Bank On Yourself for Seniors" video and/or read the transcript here.
This is very important information for you if you – or someone you care about – are between age 60 and 85 and are…
Frustrated by low interest rates you're getting from savings and money market accounts and CD's
Tired of risking your retirement savings in volatile, unpredictable stocks and other investments
Concerned about making your money last as long as you do
Being forced to take the Required Minimum Distribution (RMD) from your retirement plan every year and having to pay taxes on it – whether you need that money or not
Seeking protection from long-term care expenses
Watch the "Bank On Yourself for Seniors" video and/or read the transcript here.
These are NOT "off-the-shelf" plans – they're custom tailored to your unique situation…
I strongly urge you not to assume one type of plan (traditional versus single-premium) makes more sense than another for you without consulting with one of the Bank On Yourself Professionals. If you already work with one of the 200 financial representatives who have met the rigorous training and requirements to be a Professional, we suggest you get in contact with them now to discuss your situation.
Discover how people age 60-85 can benefit from Bank On Yourself
If you haven't yet gotten a referral to a Professional, simply request a FREE, no-obligation Analysis, and we'll put you in touch with one right away!
REQUEST YOUR
FREE ANALYSIS!
We encourage you to investigate what a Bank On Yourself for Seniors plan could do for you or your loved ones today!