ChatGPT has been making headlines since it launched last year and gained 1 million users in the first week.
If you're not familiar with ChatGPT, it's an artificial intelligence computer program that generates human-like answers to almost any question you ask.
So I decided to conduct a little experiment and ask it a simple question:
How much do I need to retire?"
Here's what the "robot" told me: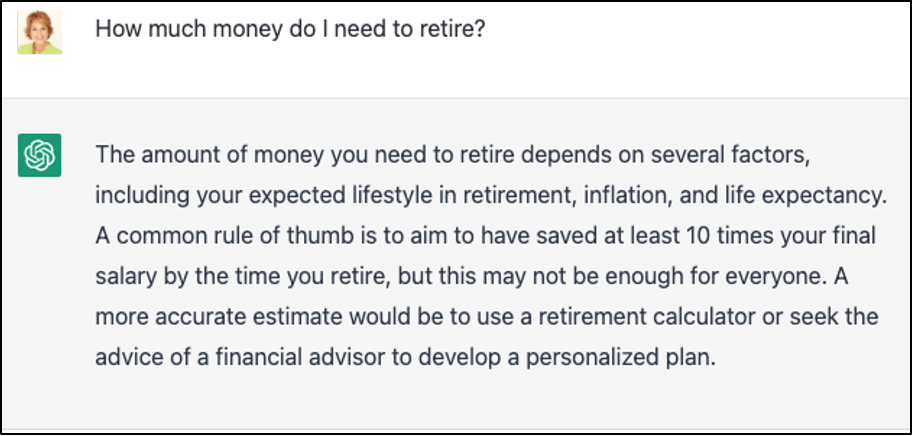 ChatGPT's response struck me as yet another example of retirement "rules of thumb" that are outdated. Like "withdrawing 4% of your retirement savings each year will provide you with an income you won't outlive."
Why Retirement Rules of Thumb are Dangerous
A rule of thumb like "save 10x your annual income for retirement" may have been helpful 30 years ago when it was first coined, but not today – especially when taking inflation into account.
For example, let's say your household income is $100,000, and you use the "10x rule" as your savings target for retirement, so you'd need $1 million.
The problem is that $1 million doesn't go as far as it used to. Someone who bought $1 million worth of goods 30 years ago would need $2 million to buy the same goods today.
This is why many millionaires who subscribe to the "save 10x your annual income" are scared of running out of money in retirement.
In a recent survey of 1,600 people with at least $1 million in investable assets, 35% said, "it will take a miracle to achieve a secure retirement."
Why are millionaires so scared?
Well, think about it. Even if you have $1 million saved, many experts say you should only withdraw 2.8% of your retirement savings each year, which is just $28,000 a year.
What kind of lifestyle do you think $2,333/month will give you?
Probably not your dream retirement, right?
Is "20 Times Your Annual Income" The New Rule of Thumb?
Maybe we should change the rule of thumb and make it higher, say 15 or 20 times your annual income?
That would be better, but it's still the wrong question. Here's why:
When you rely on rules of thumb as traditional retirement models do, you end up striving for some arbitrary goal – as the millionaires did in the survey mentioned above – only to later discover that you'll still need "a miracle to achieve a secure retirement."
And with this approach, you'd need these two miracles to happen to enjoy a worry-free retirement:
Inflation to get – and stay – under control; and
The stock market to not have any downturns between now and when you die
We call this the hope-and-pray plan
However, there's another way you could approach this – a way that allows you to enjoy a secure retirement, regardless of what happens with inflation, the market, or the economy.
The Better Alternative to the "Hope-and-Pray" Plan
If you want to avoid the ups and downs of the stock market – or if you've been disappointed with traditional retirement advice and rules of thumb – it's time to seriously consider what adding the Bank On Yourself strategy to your financial plan can do for you.
REQUEST YOUR


FREE ANALYSIS!
The Bank On Yourself strategy is a proven alternative to traditional retirement planning advice. Hundreds of thousands of folks across North America use it.
No two plans are alike – yours will be custom-tailored to your unique situation, goals, and dreams. A partial list of benefits you could soon be enjoying includes:
If you're on the fence about this, consider what Robert Chambers, a retired Naval Commander from Carmel, CA, had to say about his experience:
"When I first heard about Bank On Yourself, I thought it was another investment scheme and almost didn't look into it. I'm glad I overcame my concerns – it's now the pillar of our financial plan. I hope you also overcome your concerns and find financial independence so you can enjoy life on your terms."
To find out how a custom-tailored Bank On Yourself strategy can help you reach your financial goals and dreams – without taking any unnecessary risks – request your free Analysis here today.
There's no cost or obligation to get your custom Analysis and Recommendations, so click this button to get started now:
REQUEST YOUR


FREE ANALYSIS!