There is something occurring right now that concerns me… and ought to concern you, too.  So I urge you to pay close attention to this blog post…
Individual investors are moving into stocks and riskier investments
Since the financial crisis, and until very recently, individual investors (that's you and me) largely avoided stocks.  But now, as the stock market continues on a sharp rise that is already one of the steepest in history, people begin to fear they will miss out.  According to a recent article in the Wall Street Journal1….
Stock-market fever is one of your biggest enemies as an investor… It's pure instinct.  We're hard-wired to run with a stampeding herd and to seek safety in numbers."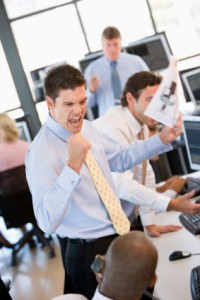 The article advises that you shouldn't trust the crowd, because, "they're usually wrong.  Time and time again, studies show the public invests at the wrong time – they get bullish and buy after shares have risen, and then panic and sell after they have fallen."
Just as they did before the housing bubble burst and just like they did before the dot.com crash.  And just like they have done throughout history.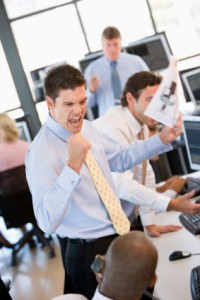 The article notes that, "too many TV market pundits talk like they're on ESPN.  It gives the stock market a phony air of urgency and excitement."  And it reminds us that, "if you're buying, higher stock prices are bad, not good."
Wall Street lost more than 40% of our money -TWICE – in the past decade
How can you be sure they're not about to do it again?
Dow 12,000 has been greeted with glee, even though the market first closed above that level on October 19, 2006.  And I recently explained why the Dow would have to be at 27,000 – TODAY! – to give you just a 5% annual return since 1999!
The Wall Street Journal article points to four obvious reasons why the recent rise is "on thin ice":
1. The government continues to print money and is borrowing $1.3 trillion a year from the future to jump-start the economy now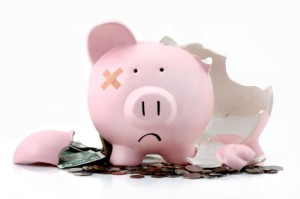 2. Debt – including government, household and corporate – is already at record levels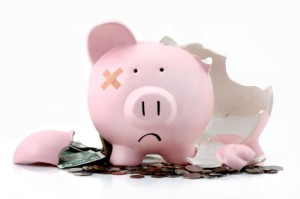 3. Housing prices are still falling and the jobs picture remains gloomy
4. China and emerging markets are experiencing raging inflation and fears are rising of another debt crisis in Europe
And here's one more I'll add that's very frightening:
5. Consumer spending is up – which is helping to propel the stock market rally.  The problem is that consumers are doing that by dipping into their savings.  In fact, according to another Wall Street Journal article, Americans have dipped deeper into their savings over the past two years than at any point in the past six decades!
And, according to Bloomberg.com2, the saving rate in December decreased from 5.5% to 5.3% to support the buying frenzy.  Only 35% of Americans have enough emergency savings to cover 3 months of living expenses according to a recent survey3.
So, it would appear that…
Many people have already forgotten the lessons learned over the past 3 years…
And even if you consider yourself a disciplined, intelligent investor, the reality is that you still suffer from the sins of the "stampeding herd" described above.  The key to a secure financial future is to first build a financial foundation that is not dependent on risky, unpredictable, volatile investments.
That gives you the ability to weather life's ups and downs and know you'll still have a retirement income you can predict and count on.
The Bank On Yourself method gives you the peace of mind and predictability missing from so many people's financial plan.  And a $100,000 cash reward still awaits the first person who can show they use a different financial product or strategy that can match or beat the advantages and guarantees of Bank On Yourself.
If you haven't already taken advantage of a free Analysis that will show you how you could have a nest egg that grows at a guaranteed and predictable rate and that never has a losing decade – or even a single losing day – request a free Analysis now, while it's fresh on your mind!
REQUEST YOUR
FREE ANALYSIS!
What's the biggest lesson you've learned from the financial crisis?
I know many subscribers have changed their behavior as a result of their experiences over the past 3 (or 10) years.  We want to hear from you!
Tell us in the comments box below what's the biggest lesson you've learned from the financial crisis and how you've changed your behavior as a result…
1. "Don't Get Carried Away by the Market Rally", Brett Arends, The Wall Street Journal, January 16, 2011
2. "U.S. Economy: Consumer Spending Increased in December", Shobhana Chandra, Bloomberg.com, January 31, 2011
3. "Number of the Week: Americans Dipping Into Savings", Mark Whitehouse, The Wall Street Journal, January 22, 2011