These Bank On Yourself reviews aren't based merely on theory. They report the actual results of Bank On Yourself clients.
Bank On Yourself is a financial strategy based on high cash value dividend-paying whole life insurance. Bank On Yourself-type policies enjoy guaranteed growth and are carefully designed to create maximum cash value and flexibility. This allows policy owners to take loans against their life insurance policies while still experiencing the same growth on their money – just as if they hadn't touched a dime of it!
Here are the Bank On Yourself reviews of two of our hundreds of thousands of happy Bank On Yourself clients …
Steady Growth of His Savings Replaces a Rocky Ride for Bank On Yourself Reviewer
Dan Proskauer is an engineer with a graduate degree from Cornell University, the highest-rated engineering school in the Ivy League. Dan works for a major healthcare company, and he holds three U.S. patents.
Dan is a sophisticated investor. He lives below his means, and he's disciplined about saving for the future. But after the financial crashes of 2000 and 2008, Dan realized he had nothing to show for decades of saving and investing his hard-earned money and "doing all the right things."
Dan is very analytical, and he spent literally hundreds of hours investigating Bank On Yourself and, as he puts it, "The more I look at this, the better it looks." He started his first two policies (one for himself and one for his wife) in 2009 and developed a spreadsheet to track the policies' progress and his family's net worth.
A couple of years after Dan shared the story of his phenomenal initial success with the Bank On Yourself strategy, we asked him for an update on how things had changed, once he was 3½ years into the Bank On Yourself program.
He chuckled and told an amusing story on himself …
"I had been glancing at my policy tracking chart periodically, and I was beginning to wonder why I saw so little change. I was expecting to see some difference as we progressed on our journey with Bank On Yourself. After two years of seeing no real change, it bothered me so much, I dug into the spreadsheet to figure out what was going on."
What Dan discovered was that two years earlier, he had selected a specific time period to display, and for two years, the chart just showed him data from that exact same time period, every time he looked at it.
"When I removed that date restriction and saw the data from my whole record, I was stunned!"
They say a picture is worth a thousand words, so take a look for yourself: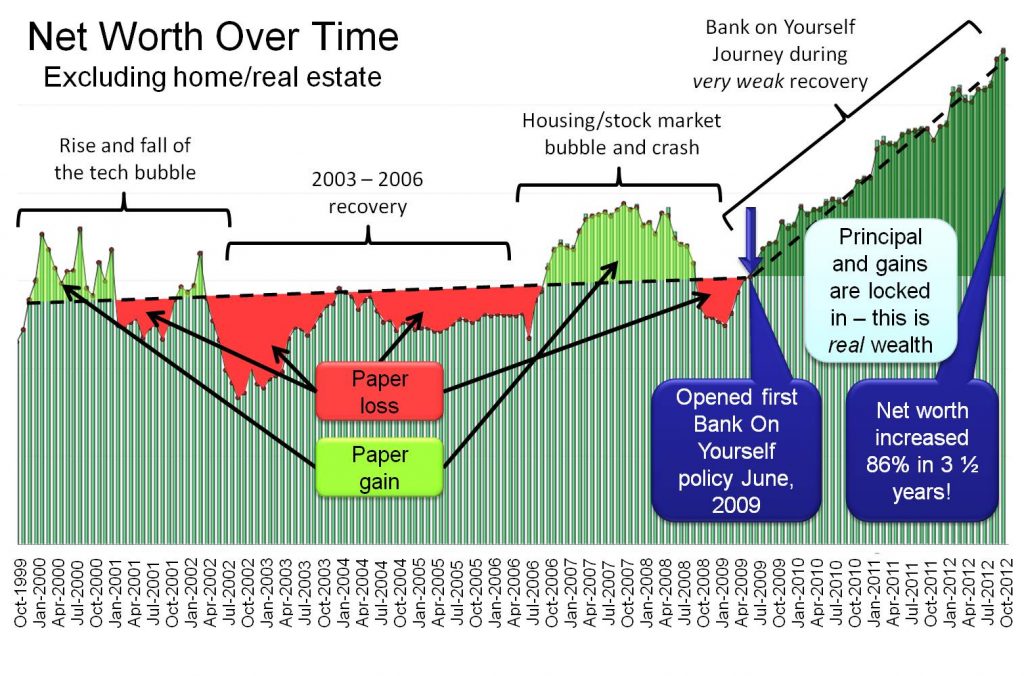 When I looked at what happened to the left of the blue arrow [indicating the time we started to implement the Bank On Yourself method] and compared that with what was happening to the right of the arrow, the picture was totally different. After starting our Bank On Yourself plans, the volatility was completely gone. It's a very smooth slope, and the slope is tremendously steeper—in a good way—than I ever expected. That just floored me."
Get instant access to the FREE 18-page Special Report that reveals how super-charged dividend paying whole life insurance lets you bypass Wall Street, fire your banker, and take control of your financial future.
Bank On Yourself Reviewer Now Sleeps Soundly, Knowing His Nest Egg Is Growing Safely!
Get instant access to the FREE 18-page Special Report that reveals how super-charged dividend paying whole life insurance lets you bypass Wall Street, fire your banker, and take control of your financial future.
Dan says, "I feel a tremendous sense of accomplishment that I made this decision. Frankly, it's working out far better than I could have expected.
"The other thing is, I go to sleep every night knowing I don't have to worry about 'What's going to be the news out of Europe when I wake up in the morning? What's going to be the news out of Asia?'
"Or when I get up and go to work, 'What's going to happen during the day in the U.S.?' I just don't really worry about any of that. I know that our family has a solid and predictable financial future, with Bank On Yourself as a foundation."
Listen to our first interview with Dan Proskauer, a very satisfied Bank On Yourself client, on the Bank On Yourself website. After Dan gave us the news about his little spreadsheet mishap, he talked with us about the difference between paper wealth (what you could have if you sold an asset today – but since you're not selling it today, it's only paper wealth) and real wealth (like cash in the bank … or the cash value of a dividend-paying whole life insurance policy).
And he pointed out that not only are government-controlled retirement accounts such as 401(k)s and IRAs only paper wealth, they're also virtually untouchable before retirement. Listen to (or read a transcript of) Dan's second interview with Pamela Yellen here.
Bank On Yourself Reviewer Dan Proskauer Still Loves Bank On Yourself
Today, Dan Proskauer has nine Bank On Yourself-type policies, including several for his wife and himself, plus one policy each for his three children.
He says, "The wind is at our backs," as the cash values in their policies grow more efficiently every year – "without the risk inherent in the stock market."
"We've also had ready access to our capital at all times and have taken numerous policy loans." Dan has had all the proof he needs, to know that taking life insurance policy loans beats borrowing from his banker any day!
Bank On Yourself Reviewer Reveals How a Boston School Teacher Fired His Banker
At first, Joe Goldsmith was concerned that it would take too long for his savings to grow in his Bank On Yourself plan. In fact, for the first few years he was upside down; that is, the total of his contributions exceeded his cash value. But then, because his policy was growing at a supercharged rate, he saw that his cash value was growing faster and faster. And from the very first day, he has had the full death benefit protection for his family.
Joe took advantage of the loan feature of his whole life insurance policy to actually fire his banker and bank on himself.
In his very first year, Joe and his wife used life insurance policy loans to …
Take three trips to Florida (the Goldsmiths live in Boston)
Purchase a big screen TV for one of their kids
Pay off two car loans—and they got the pink slips!
Pay off their credit card debt
Buy a luxury bed
Take her wedding ring to the jewelers to have it up-scaled
Joe comments …
Some people are going to be skeptical about how much we did in one year, but it's all true. You just have to know how to use your policy and be disciplined about paying back your loans."
Joe feels that those who do best with the Bank On Yourself strategy are not spendthrifts, but rather disciplined savers. Joe told us those six items he financed himself (plus whatever items he forgot to mention) were things they were going to spend money on anyway. "The difference is that we are paying ourselves back instead of paying a financial institution."
Joe especially likes that there's no loan application or qualifying necessary to take out a life insurance policy loan.
I am the depositor, the lender, the borrower, and the payee, all in one!"
You can read Joe's full Bank On Yourself review here.
Read Reviews of Bank On Yourself Written by Other Happy Users
See how other Bank On Yourself policy holders are using their policies. And check out our YouTube Bank On Yourself video reviews.
Then, to learn more, why not download our Free Special Report, 5 Simple Steps to Bypass Wall Street, Beat the Banks at Their Own Game and Take Control of Your Financial Future.
And to find out exactly what the Bank On Yourself strategy could do for you and your family, get an Analysis of your situation, along with a Bank On Yourself Personalized Solution and Recommendation. When you request your FREE Analysis, you'll receive a referral to a Professional (a life insurance agent with advanced training on this concept) who will prepare your Analysis and Solution.
There's no cost or obligation, so why not request your FREE Analysis here right now, while it's fresh on your mind: