Dan Proskauer recently sent me a chart showing how his family's net worth has grown since he started his first Bank On Yourself plan 3 1/2 years ago, and how that compares to the previous 10 years.
When Dan saw this chart on his financial tracking software program, he said his jaw dropped so hard it left a dent on his keyboard and that "we should be shouting about this from the rooftops."
They say a picture is worth a thousand words, so take a look for yourself and note how you'll see a more detailed version of the chart when you place your mouse over it…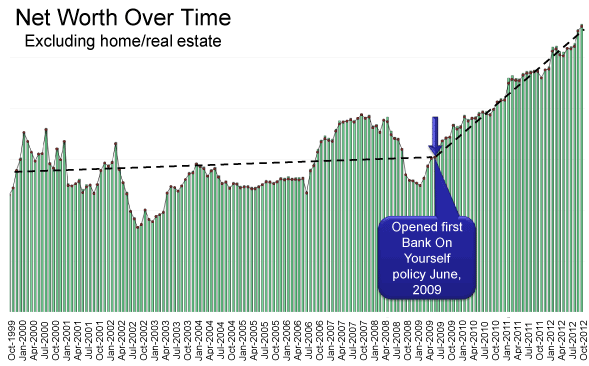 Why would Dan be willing to reveal and discuss something as personal as his net worth for the whole world to see? Because, in Dan's words…
If I can help a few people start Bank On Yourself this year, instead of next year or instead of never, then it's well worth my time."
I had interviewed Dan on this blog two years ago ("Bank On Yourself under the microscope"), and Dan agreed to give us an update on how things have changed now that he's 3 1/2 years into the Bank On Yourself program.
Dan is Vice President of Technology for a major health care company.  He's extremely analytical and has spent literally hundreds of hours analyzing and "spread-sheeting" the concept and his plans.  He says, "I had high expectations for Bank On Yourself… and they've really been exceeded."
I think you'll enjoy listening to this fast-paced interview with Dan (and/or read the transcript), which reveals:
How Dan's mindset about saving and investing has changed as he sees how Bank On Yourself has impacted his finances
The BIG difference between "paper wealth" and "real wealth"
How Bank On Yourself eliminates volatility and unpredictability
The downsides to government-sponsored retirement plans like 401(k)s and IRA's
Why Dan was surprised to see his net worth grow so dramatically, even though he's still in the early funding stages of his Bank On Yourself policies
How Dan now satisfies his urge to try for higher returns in the stock market
Why Dan has nine different Bank On Yourself policies now… and why each one is unique
How we've been brainwashed into believing we must accept risk to grow significant wealth, and why Dan now realizes that taking that risk isn't necessary
How having money safe and available to you in a Bank On Yourself policy increases your options rather than limiting them
The value the Bank On Yourself Professionals bring to the table
Dan noted that his income has increased some in the last four years, as has the amount he saves each year.  The difference is that now he has a great place to put that income (his Bank On Yourself plans), where he no longer loses any of it to the "randomness of the market".  And he's convinced the picture you see above wouldn't look anywhere near this good if he hadn't discovered Bank On Yourself.
One thing we consistently hear from folks who use the Bank On Yourself wealth-building method is how much more fun and motivating saving money becomes when you don't have to worry about losing it or what effect the events of the day in the U.S. or in some faraway place will have on your hard-earned money!
Check out Dan's interview…
You can listen to the interview by pressing the play button below, or you can download the entire interview as an mp3 and listen on your own player or iPod:


You can also download a transcript of the interview here.
Let us know what you think in the comments box below! And if you want to share your net worth growth picture with us (without the actual dollar amounts listed to protect your privacy), we'd love to see it!