Updated November, 2019
In a Nutshell: By using a little-known form of high cash value, dividend-paying whole life insurance, you can essentially be your own "bank" — your own source of financing — instead of relying on traditional lending institutions.
What if you could bypass banks, finance and credit card companies altogether and become your own source of financing?
It's easier to do than you might think and hundreds of thousands of people are already doing it!
To show you how to become your own "bank" — your own financing source — we've created a fast-paced video. This video reveals . . .
A way to make major purchases that beats financing, leasing or even paying cash for them!
How the Bank On Yourself method lets you use your money to buy things…  but still have it earning interest and dividends for you
Six ways this method beats using traditional financing
How famous people like Walt Disney and J.C. Penney used this method – when no banker would lend them a dime
How the average family can add $500,000 – or more – to the their lifetime wealth, simply by running their car and vacation purchases through a Bank On Yourself plan
Click the play button below to watch the video…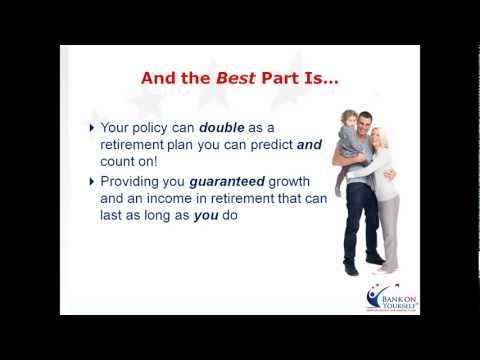 Here's another video you may be interested in…
Would you like to see a specific example showing how much guaranteed and predictable income you could have in retirement, using the Bank On Yourself method?
Click the play button in the video below to see a fascinating example: