This short video reveals the problems with the conventional wisdom about financial and retirement planning, and explains why the average family with a head of household age 60-70 has been able to save only 25% of what it will need for retirement.
Many readers of this blog have asked to see more specific examples showing how much guaranteed and predictable income you could have in retirement, using the Bank On Yourself method. So I've included a fascinating example on this video.
If you have the feeling your financial plan has been treading water (or going backwards) for far too long, you'll want to be sure to watch this video now. It's got some pretty cool animation in it, too!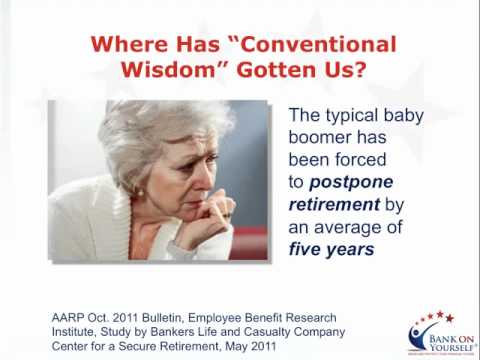 TIRED OF WATCHING YOUR FINANCIAL PLAN GO NOWHERE?
Find out how the Bank On Yourself method can give you the financial security and predictability you want and deserve. It's NEVER had a losing year in 160 years! Take the first step right now by requesting a FREE Bank On Yourself Analysis.
Wondering where you'll find the funds to start a plan? Don't worry! You'll receive a referral to one of only 200 financial representatives in the country who have met the rigorous requirements to be a Bank On Yourself Professional and can show you eight ways to find money to fund a plan that can help you reach as many of your goals as possible, in the shortest time possible.