Note: this post has been updated in November 2011

-$62,734.06. That's the "unrealized" loss we've had in one of the mutual funds in our retirement account, according to the statement we just received.
A $62,734.06 unrealized loss.
I keep staring at the statement, hoping that number will somehow magically turn positive.  After all, we've had a nice run-up in the stock market recently, and that mutual fund has one of the best long-term track records of any fund.
What the heck is an unrealized loss, anyway?
I realize I've lost a whole bunch of money.  And I remember working my butt off to make that money!"
A $62,734 "unrealized loss."  Is that an oxymoron, like "Great Depression," "small fortune," "accurate forecast" and "quickly reboot"?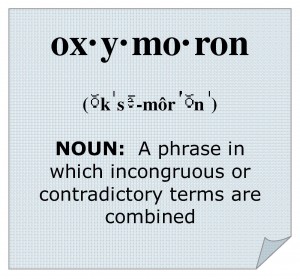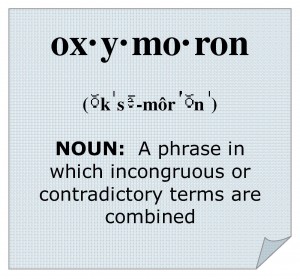 I dunno if it qualifies as an oxymoron.  But I do know it's moronic that we pin our hopes and plans for financial and retirement security on things we can't predict or count on!
My husband Larry is 61 and theoretically four years away from retirement.  He probably won't retire when he's 65 because he says he'd get bored.  But if we were relying on the conventional wisdom about saving for retirement, it wouldn't even be an option for him.
Did you know that 40% of retirees were forced to retire sooner than planned, due to health problems, job layoffs and other factors beyond their control?
Of course, none of us want to think that could happen to us… but what would you do if it did?
Another mutual fund in our retirement account shows an $8,012.16 "unrealized" gain.
And there lies the rub:  You don't actually lock in a gain or loss until you sell an investment.
(November 22, 2011 Update:   Our most recent retirement account statement shows our "unrealized loss" is virtually unchanged since I wrote this blog post almost a year ago.  And looking at the Dow's ups and downs over the past year makes a day on the roller coasters at Six Flags look tame.)


Unfortunately, studies and history show that most of us are far more successful at locking in our losses than our gains.
Can you tell me what your retirement account will be worth on the day you plan to tap into it?  (Not what you hope it will be.)  If your answer is "no," how can you even call it a plan? And what will you do if the market plunges by 50% – again – right before you planned to retire?
Contrast that with Bank On Yourself.
Last year around this time, I showed you how one of my Bank On Yourself policies had grown from the beginning of 2000 through the end of 2008, a period that included not one, but TWO devastating market crashes.
I did a side-by-side comparison with the growth of the S&P 500 over the same period.
Now I can  give you an update for 2009 and 2010 on that comparison: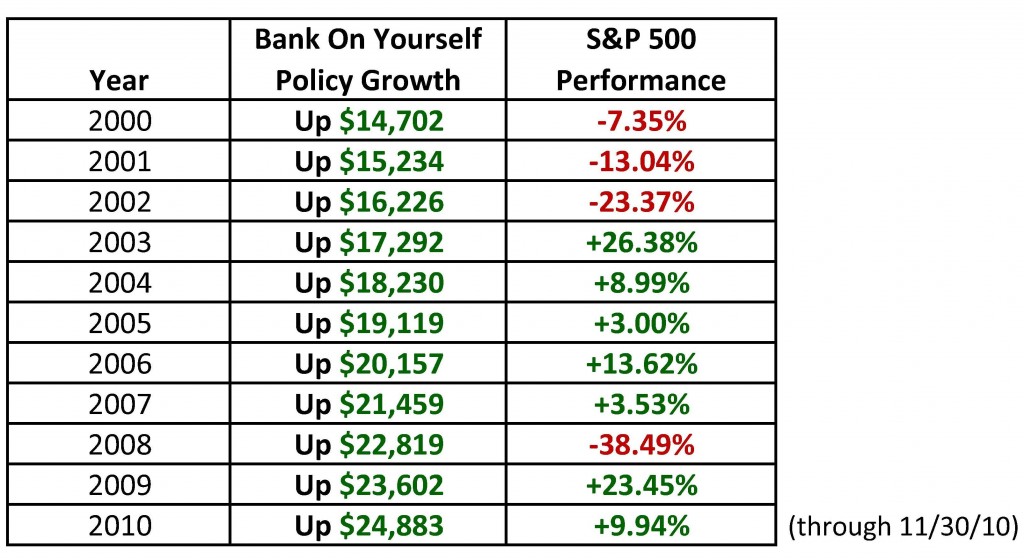 Bank On Yourself-type policies get better (more efficient) every single year, simply because they are engineered to do so!
The graph below shows the typical growth pattern in a Bank On Yourself-type policy.  It's based on one of my policies and shows the growth I've had so far, along with the growth I would have if the dividends stay where they are today.  Right now, dividends – like interest rates – are at historic lows.  If they increase, the growth will be greater.  Keep in mind that dividends aren't guaranteed, however, the companies preferred by the Bank On Yourself Professionals have paid dividends every single year for over 100 years.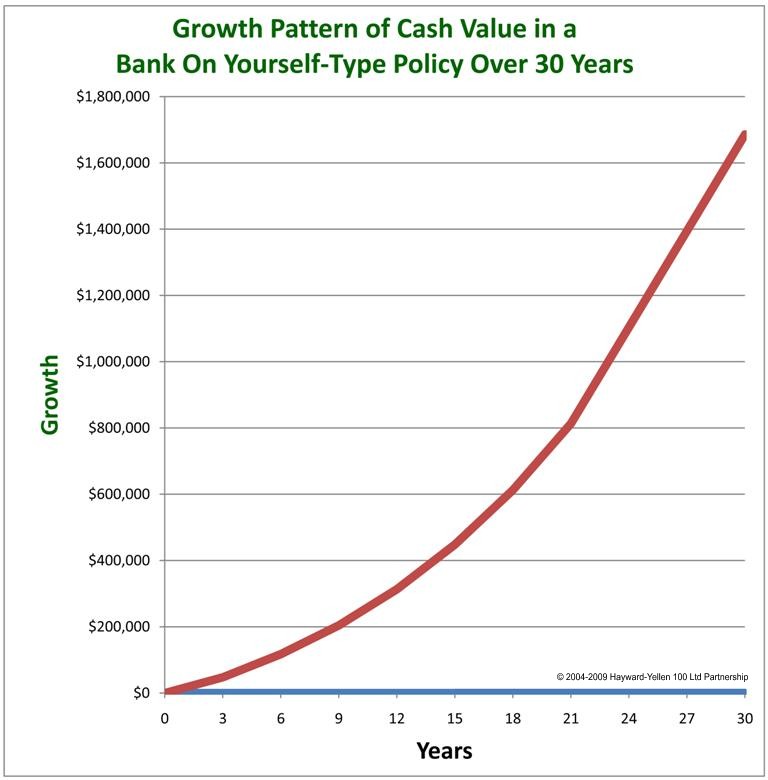 So, will your policy growth look like the graph above?
If you're referring to that growth curve that just keeps increasing every year at a steeper pace, the answer is "yes."  Because, as I noted above, that's how these policies are designed to grow.
If you're wondering if your actual numbers will be similar to the ones in the examples of my policies above, the answer is no.  Because Bank On Yourself isn't an off-the-shelf product.
Every policy is custom tailored to help you reach as many of your financial goals and dreams as possible, in the shortest time possible, given your situation today.  This process is illustrated in Chapters 3-6 of my best-selling book.
If you haven't already started to Bank On Yourself, you can take the first step now by requesting a free, no-obligation Analysis.
Do you make New Year's resolutions?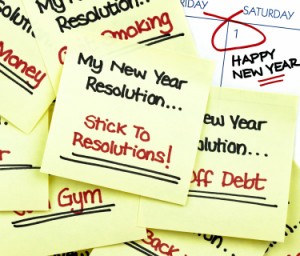 If one of your New Year's resolutions is to get your financial house in order, you need to do more than just think about it and write it down.  You need to take action.
You need to lay the foundation down now that can ensure you never again suffer a "lost decade"… or even another lost year.
And when stocks, real estate and other investments continue on their endless roller-coaster ride, you can pull out your Bank On Yourself policy statements and sleep well knowing you have taken back control of your financial future.
REQUEST YOUR
FREE ANALYSIS!