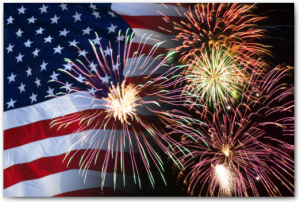 With Independence Day right around the corner, I got to thinking about the real meaning of financial independence.
(Take our survey now and tell us what financial independence means to you.)
For retired Navy Commander and Bank On Yourself revolutionary Bob Chambers, it means,
Spending time with family and friends and having a predictable, life-long income that provides a comfortable lifestyle."
If you've been a subscriber for a little while, you may recall that Commander Bob agreed to share the booklet he wrote, which he called "Financial Independence Made Easy," after we received an avalanche of requests for it when I posted an interview I did with him.
Commander Bob has been a student of money and finances for many years, and his 20-page booklet is full of profound insights, including:
How to safely increase what you make on your savings by 200-400% or more
How to develop a low-cost, permanent standard of living that feels like a perpetual vacation
7 financial planning myths that are destroying your wealth
The problem with 529 College Savings Plans, UGMA's and UTMA's
31 unique benefits of the Bank On Yourself concept, which he says is "the best way I've found to secure our family's financial future"
And a whole lot more!
I'd encourage you to download a free copy of Bob's booklet and/or listen to a replay of the audio interview I did with him.  A transcript of the interview is also available there.
If you don't already use the
Bank On Yourself method
and you'd like to find out why Commander Bob says Bank On Yourself is the "Swiss Army knife" and "Holy Grail" of savings and investing vehicles, and how it can give you the financial security and independence you want and deserve,
request your FREE Analysis now
, if you haven't already.
REQUEST YOUR


FREE ANALYSIS!
As Commander Bob has discovered, Bank On Yourself is about having
real
wealth and financial security for as long as you live.
Does financial independence mean freedom from banks and finance companies?
Former teacher Ed Ingle and his wife decided to take a policy loan to do some home improvements soon after starting a Bank On Yourself policy,
Just to see how this whole loan thing worked.  It was so easy that now we laugh at the idea of trying to understand the process.  There is no process.  It's our money!"
In the first two years, Ed and his wife put the policy to work in several ways.  They are putting their son through a private college through the plan.  "No money goes to the bank," Ed notes.
He purchased a car using the policy… and "no money goes to the bank!"
He also financed his wife's graduate school through the plan.  ("And no money goes to the bank!")
Ed says he no longer worries when the stock market rises and falls.  He no longer worries about the interest rates banks are charging.  He's in charge of his own finances from here on out.  (And no money goes to the bank!)
Is financial independence about being able to handle whatever challenges life throws at you?
A new survey just out from Bankrate.com found that 26% of those who responded had NO emergency savings at all.  And only 40% have three months or more worth of their household income in savings.
Even the highest earners have trouble putting money away.  Only 46% have six months' worth of savings.
Three simple steps to a financially stress-free life…
Financial stress seems to have become the new normal for most of us.  But it's not inevitable.  I reveal the three simple steps to take to have a financially stress-free life – starting today – in this blog post.

So, what does financial independence mean to you?  We'd love to hear from you!  Tell us what you think here.
Have a safe and relaxing holiday weekend!