A question we are getting frequently right now is how safe is your money in a Bank On Yourself plan if the debt crisis in Europe continues and spreads to the United States?
Let's start by answering the question…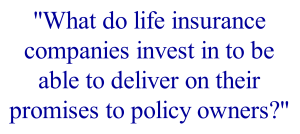 Life insurance companies are highly regulated and required to maintain sufficient reserves to ensure they can pay all future claims.
They are regularly audited by the state insurance commissioners' offices, and sometimes by dozens of states, to ensure they are on solid financial ground.  And a multi-layer safety net exists to assure your money in a life insurance policy is secure.
You may be wondering, "What about AIG?"  Many people missed the fact that AIG's problems were caused by a holding company, not its life insurance subsidiaries.  Their insurance companies were walled off from the problems, have always been solvent and did not receive a bailout.
The companies recommended by Bank On Yourself Professionals are among the financially strongest life insurance groups in the world.
They enjoy some of the strongest surplus positions in the industry, approximately double the industry average.
These companies are, in essence, owned by policyowners, rather than stockholders, which allows them to focus on the long-term interests of policy holders, rather than the short-term demands of Wall Street.
Here's what the companies used for Bank On Yourself invest in:
Over 90% of their portfolio is invested in investment-grade fixed-income assets
Less than 1% is invested in U.S. Treasury or other government debt
Their bond portfolios are well diversified across many industries and companies, with no investment representing more than 1% of assets
Due to their financial strength and reserves, they have the ability to hold on to any assets that may decline in value for many years until they recover
They had virtually no exposure to the risky investments that caused the market meltdown of 2008
They have NEVER missed paying an annual dividend to policyowners for more than 100 years, including during the Great Depression!
Both your principal and gains are locked in – they don't vanish due to a market correction
You can know the minimum guaranteed value of your policy in any year and also the minimum guaranteed income you can take from your policy
To find out what your bottom-line numbers and results could be with Bank On Yourself, request a free Analysis here
REQUEST YOUR


FREE ANALYSIS!
For these reasons – and many more – we know of no better or safer place to store your money!
The bottom line is that you have to park your money somewhere.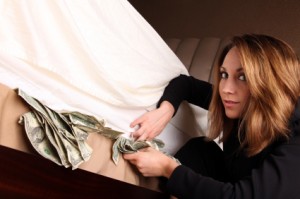 That could be in stocks, mutual funds, bonds, CD's, money markets, real estate, currency, commodities… or under your mattress.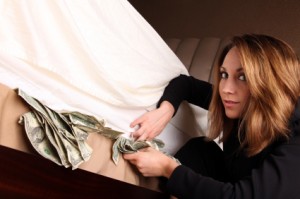 How many people have lost money in these financial vehicles, including you?
Many families' nest-eggs have been lost in every one of these conventional investing and saving methods, dashing their hopes and dreams for a secure financial future.
As most people are aware, even putting your money into "insured" saving accounts and CD's isn't a sure thing; the FDIC's insurance fund was almost $21 billion dollars in the red at the end of 2009 and the number of banks at risk of collapsing is growing daily!
Putting your money in your mattress also has its risks – it can be stolen or catch on fire.  And inflation will surely make it worth less every year.
And now, we can't even be confident that U.S. treasury bonds are a safe place to put our money.
But we challenge you to find any credible proof that anyone has lost money in a life insurance policy in the last 100 years!
For the record, the $100,000 cash reward I've offered to the first person to show they use a different product or strategy that can match or beat the advantages and guarantees of a properly structured dividend-paying whole life policy still remains unclaimed.

Go ahead and take the $100,000 Challenge! Because if there is a better strategy than Bank On Yourself, I want to know about it, so I can use it for my family and share it with others.

One more thing.  I know some people are going to ask which companies the Bank On Yourself Professionals recommend, as discussed above.
Please understand I'm not going to list them.  First, because I'm not in the business of referring any specific company.  And also because it's not enough to know which companies are the strongest and have the best product for the Bank On Yourself concept.
You also need the help and coaching of a financial representative who has advanced training in this method and knows how to structure the policy properly and how to use it to maximize your lifetime wealth.
It takes even an experienced financial representative at least a year of full-time training and experience to become proficient at this.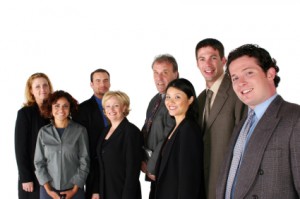 Experience has shown that without the guidance of a knowledgeable financial representative, there's an excellent chance your policy will be structured wrong. As a result, it won't grow nearly as fast, you could lose the tax advantages, or both.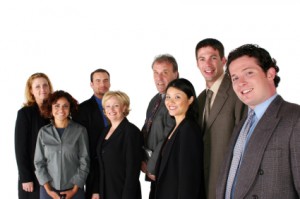 That's what led to the creation of the Professional training program, and only around 200 financial representatives across the country have passed the rigorous requirements.
You can get a referral to one of these specialists when you request a free, no-obligation Analysis that will show you how much your financial picture could improve if you added Bank On Yourself to your financial plan.
REQUEST YOUR
FREE ANALYSIS!
If you haven't already started to Bank On Yourself, please take the first step today and take back control of your financial future!
And please tell us what's on your mind below!