Oh what a roller-coaster year this has been!  Our entire financial system and economy almost fell off a cliff.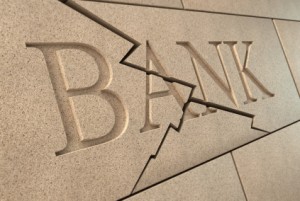 And while there are some hopeful signs of new life in the economy, this year has also brought us:
Massive bailouts
A tripling of an already-bloated federal deficit
A falling dollar
Rising foreclosures (and likely to spike as billions of dollars in ARM's are now coming up for adjustment)
Major banks and investment houses taking on three times (!) the risk they were before the collapse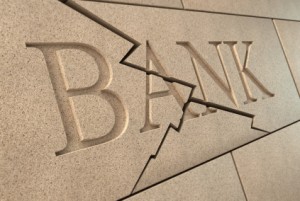 So what do you think next year has in store for us?
No one really knows for sure.  (Well, except maybe the folks at the Psychic Hotline.)  So how do you prepare for a very uncertain future?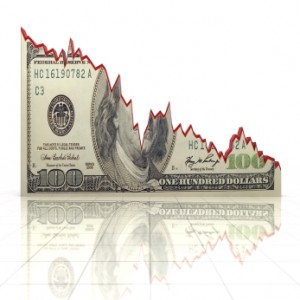 Here's a quick quiz that may reveal an answer for you…
What's the one financial asset that increased in value during the market crash of 2008?  And in 1929?  And in every period of economic boom and bust in between?
Answer:  The product used for Bank On Yourself:  Cash-value life insurance.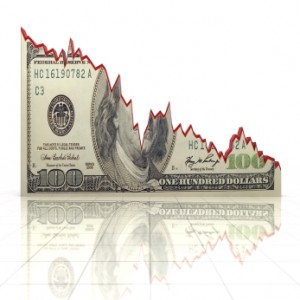 As I've mentioned, my husband Larry and I now have 18 Bank On Yourself policies.  I've picked one of them to show you how a dividend-paying whole life policy like this can grow over time – even when the markets are plummeting.  It's a great example of how Bank On Yourself gives you the peace of mind that lets you sleep at night.
Here's how much this plan has grown each year since the beginning of 2000, a period that includes not one, but TWO devastating market crashes.  In four of these years, the S&P 500 was down for the year, as you can see in this side-by-side comparison: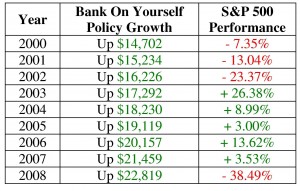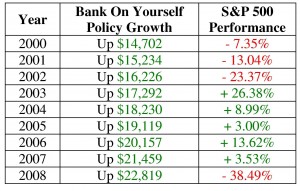 If you had put $10,000 into an S&P 500 Index fund at the beginning of 2000, how much do you think it would be worth today?
Take a guess before you read on.
[Read more…] "Bank On Yourself: A financial plan you can count on"