Stock market volatility has returned with a vengeance, as this chart of the Dow over the last 3 months starkly illustrates.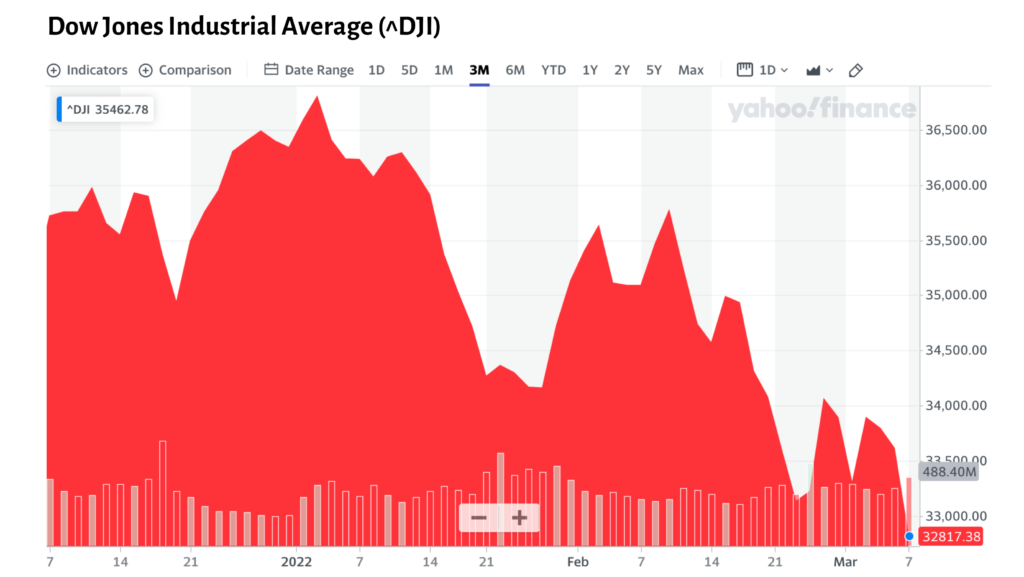 We're facing a whirlwind of economic challenges we have little or no control over. Here are the top 5 currently contributing to the volatility:
Challenge #1: Inflation has hit a 40-year high
That's hammering consumers, wiping out pay raises, and reinforcing the Federal Reserve's decision to rip off the band-aid and raise borrowing rates multiple times this year alone, which some economists fear will trigger a recession.
Challenge #2: The pandemic and rock bottom interest rates pushed home prices up at a head-spinning rate

But now, with mortgage rates up and about to go higher, demand waning, and the average home buyer priced out of the market, experts are predicting the housing market is in for some pain. "A decline of 15%-20% (in single-family home prices) seems likely," according to real estate market expert Gary Shilling, who has been very accurate in his predictions.
Challenge #3: Meanwhile, household debt has hit a new high
Just as Americans returned to pre-pandemic spending habits and savings rates have plunged.
Challenge #4: This is all happening as interest rates on almost everything have soared… except on savings accounts….
Higher interest rates on debt will only make it more difficult and painful for consumers and our country to pay down debt.
Challenge #5: Russia has waged war on Ukraine
This has roiled markets, raised fears and is likely to have far-ranging repercussions.
Compounding these challenges is the fact that many people were lulled into a false sense of security, believing that the stock market and home prices only go up and interest rates and inflation would stay low forever.
Many have forgotten the lessons learned during the last two market crashes that wiped out 50% or more of the average investors' life savings and caused unimaginable pain for tens of millions of people…
Lesson #1: There is an enormous difference between "paper wealth" and "real wealth" – the surge in value of your retirement accounts and your home is an illusion – just a bunch of eye-popping numbers on paper. Those numbers repeatedly sucker many of us into believing we have real wealth and financial security when we do not.
Reality: You don't lock in a profit until you sell an investment. And you shouldn't have to worry about when the next market crash will come and turn your retirement dreams into a nightmare.
Lesson #2: Having an emergency fund equal to 3 or even 6 months of your expenses won't come even close to cutting it. Most Americans invest rather than save. As a result, surveys show most people can't come up with the money to cover even a relatively small, unexpected expense. A major emergency can devastate them.
Reality: The secret to enjoying a financially stress-free life is to have a solid foundation of safe and liquid cash reserves you can use for emergencies and opportunities equal to at least two years of your household expenses.
Lesson #3: Your banker is not your friend (even if you golfed together every week for years). As Mark Twain noted…
"A banker is a fellow who lends you his umbrella when the sun is shining but wants it back the minute it begins to rain."
Reality: Banks and finance companies can (and do) jack up your interest rates and shut down your credit lines with no notice. They charge you outrageous interest rates while paying you so little on your savings accounts and CDs that you need a magnifying glass to see it.
Learn how to fire banks and credit card companies and become your own source of financing here.
How Do You Gain Control of Your Finances and Position Yourself for Success – No Matter What's Happening in the Markets or the Economy?
Here are 5 ways the Bank On Yourself safe wealth-building strategy is the Swiss Army knife of financial planning strategies…
Benefit #1: Vacations are for people, not for your retirement savings. A Bank On Yourself plan doesn't skip a beat when the stock or real estate markets crash. Bank On Yourself has a 160-year-plus track record of guaranteed, predictable growth – with no luck, skill, or guesswork required. And your plan is guaranteed to grow by a larger dollar amount every single year.
Want to find out what your guaranteed bottom-line numbers and results could be if you added the Bank On Yourself safe wealth-building method to your financial plan? Just request your free, no-obligation Analysis now.

Benefit #2: Adding Bank On Yourself to your financial plan lets you fire greedy bankers and finance companies and become your own source of financing, gaining access to money whenever and for whatever you want – no questions asked.
Benefit #3: You don't have to liquidate your retirement savings or any other asset to get your hands on money for emergencies or opportunities. Plus, you can use that money, and your plan can continue growing as though you never touched a dime of it (if your plan is from one of a handful of companies that offer this feature).
Benefit #4: Bank On Yourself helps protect you from inflation in three ways, as explained here.
Benefit #5: The Bank On Yourself strategy is an unbeatable place for money you need to keep safe and liquid and for money that you can't afford to lose, whether that be money you're saving for retirement or for a college education. Your growth is guaranteed and beats savings and money market accounts and CDs by a country mile. Having money safe and liquid doesn't take away your options – it only gives you more flexibility and control.
Find Out Today How the Bank On Yourself Safe Wealth-Building Strategy Gives You an Unbeatable Combination of Advantages and Guarantees
It's easy to find out what your guaranteed, bottom-line results could be if you added Bank On Yourself to your financial plan. Just request your free Analysis here now. You'll get a referral to a Bank On Yourself Professional with advanced training on safe wealth-building strategies who can answer all your questions.
The biggest regret most people say they have about the Bank On Yourself strategy is that they didn't get started sooner. Don't let your inaction turn your retirement dreams into retirement nightmares. Take the next step towards economic sanity today by clicking this button: