Because the Bank On Yourself wealth-building method lets people bypass Wall Street to grow wealth safely and predictably every year – regardless of "whether the market goes up, down or sideways"™  – we've taken a lot of nasty flak from financial "gurus" and investment advisors over the years. That seems to be heating up as individual investors continue to flee the stock market in droves, which is having an impact on many advisors' livelihoods.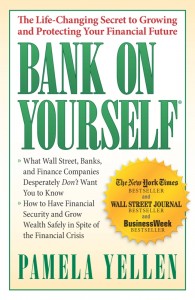 Allan Roth – a financial planner and blogger for CBSNews.com MoneyWatch – has written an article about why he believes this tried-and-true strategy is "snake oil." But Allan Roth is not an investigative reporter. Allan Roth is an investment advisor with some very strong opinions. Of course, we understand that Mr. Roth is entitled to his opinions, however, his article about Bank On Yourself is filled with numerous misstatements of fact and misquotes. When I sent a detailed accounting of his blunders to the legal department of CBSNews.com, it got routed to an editorial "executive producer" who refused to correct the record.
Therefore I am taking this to the court of public opinion and giving you the facts so you can decide for yourself. We really want to hear from you, so we're going to pick 10 of the most interesting or insightful comments made on this blog and award posters valuable gifts. (Details at end of this post.)
I'll address just one of Roth's misstatements in this post. In a nutshell, Allan Roth's argument is that using a Bank On Yourself policy to finance something like a car and following the strategy laid out in my best-selling book is a losing strategy. But the "logic" Mr. Roth uses is flawed:  Allan Roth was comparing the total cost of purchasing a car and financing it through a Bank On Yourself-type policy to the total cost of not buying a car at all!
How did he arrive at the "well, duh" conclusion that at the end of the day you'll have more money if you don't buy things than if you do? And how did Allan Roth completely miss the boat on what Bank On Yourself is all about? Read on to find out…
After a number of Roth's clients asked him about adding more guarantees and predictability to their financial plan with Bank On Yourself, Roth contacted one of the Bank On Yourself Professionals to determine if the book's claims were true. Roth was particularly interested in knowing if the process described in the book for becoming your own source of financing for major purchases worked as claimed.

Here's a link to the article Mr. Roth wrote.
Roth writes that the projections "seemed magical"
The advisor Roth contacted provided him with several illustrations showing how he could borrow from his policy to purchase cars, and how that would impact the income he could take from the policy during his retirement years. Roth wrote in his article that the projections "at first glimpse… seemed magical.  By year 12, when I had planned to use the insurance policy to live on, I had more money under the scenario where I borrowed to buy a car than in the one where I didn't [use the policy to] purchase a vehicle."
But later Roth pointed out that by following the Bank On Yourself method of financing his automobile purchase through his policy, he would have paid an "additional" $12,000 to the insurance company, and he wanted to know where that money went. The advisor explained it to Roth at least six different ways, but Roth never seemed to understand. Finally the advisor gave up.
That's when Roth came to me. I painstakingly answered the same question two different ways. The bottom line is that the illustrations and projections provided to Allan Roth – the ones he himself called "magical" – were correct. There was no software malfunction. We simply used arithmetic to show Allan how his $12,000 was in his policy and had grown to $13,748.
You can see that arithmetic in my verbatim first reply to Allan Roth.  Here is the proof that the financial promises in the Bank On Yourself book DO add up.
But Roth wasn't convinced, so he went to the insurance company that provided the illustrations and asked them to verify his conclusions. They, too, explained the flaw in Roth's logic.
All along, Allan Roth's confusion and conclusions were based on comparing buying a car through his policy versus not buying a car at all! Roth ignored the fact that you have to compare apples to apples, meaning you have to assume you were going to buy the car one way or another.
No wonder he concluded he'd "be out even more than 30 grand" if he used the policy to finance a car!
Well, duh! Of course you'd have more money if you didn't buy a car!
And nowhere in my book do I say you'll come out better by financing a car (or anything else) through your policy than by not buying it at all. Throughout the book, I explain I'm going to compare financing a car the traditional ways against financing a car through a Bank On Yourself policy.
For example, on page 5, I talk about how you can have a bigger nest egg "by buying cars… the way I reveal in chapter 2 and 6, rather than by financing or leasing them." And on page 17, I note, "But please understand this is about a different way to pay for things…" And on page 20, I wrote, "To understand the power of it, let's go back to our example of buying a car… but instead of borrowing $30,000 from a finance company, you're going to borrow it from your own Bank On Yourself plan." And there are numerous other similar mentions in my book.  (I wonder if Roth even read my book?)
It seems pretty clear, doesn't it? To have the most money in your pocket, don't buy a car! Take the bus.
But if you are going to buy a car, I haven't found anything more financially savvy than banking on yourself, using a Bank On Yourself policy loan.
Roth claims that when he went to the insurance company to ask them to verify his conclusions, the insurance company did just that. But that's not what happened.
The insurance company verified that the ILLUSTRATIONS he received were correct, as were some numbers (for example, "6.9% Ret") that Roth wrote on the illustrations. But the CONCLUSIONS Roth came to on his own were correct ONLY if you insist on comparing buying a car through the policy versus not buying a car at all!
Roth left out some critical details…
In his article, Roth didn't mention that the second time he spoke with the insurance company, they brought in someone who is an expert at evaluating insurance illustrations and how these policies work when you use them for financing. This expert explained to Roth the exact same thing I tried to explain twice and the advisor tried to explain six times: you can't compare buying a car through a policy with not buying a car at all!
Poor Allan. He still couldn't understand, and this pains me greatly. For the last ten years, I have devoted myself to my mission of educating people about the wealth-building advantages of specially-designed dividend-paying whole life insurance policies, on which the Bank On Yourself concept is based. I know my efforts have gone a long way toward taking a strategy that was historically the domain of the wealthy, the too-big-to-fail financial institutions and Fortune 500 companies, and making it more accessible to the rest of us.
I realize that the Bank On Yourself wealth-building method goes against all the conventional wisdom about saving, investing and financing, and I guess I just wish more people would keep an open mind. I take it as a personal failure when even one person speeds past the Bank On Yourself concept, either because of a closed mind or because of my inability to explain the concept in a way that makes brain-dead simple sense to them.
And it particularly pains me that I was not able to communicate the value of Bank On Yourself to Allan Roth, who wrote in his article lambasting my book…
On a personal level, I am really seeking refuge from the volatility that has whipsawed the markets and frayed investor nerves."
I truly feel Roth's pain! As I write this, in early December 2012, the Dow has increased by less than 1% per year – for the last 13 years. The S&P 500 is actually below where it was at the end of 1999. And during that same period, inflation has eaten away about 35% of the value of your money.
But Bank On Yourself provides a wonderful solution, and it's a shame Mr. Roth didn't realize he was literally holding it in his hand: One of the illustrations Roth received showed how, in the 13th year of the policy (when Roth would have stopped paying premiums), he could have a net cash value increase of $18,817.1  That represents a 5.1% annual return on his $367,715 cash value of the year before. And that 5.1% is AFTER all fees and expenses. Best of all, it comes without the risk or volatility of stocks and other investments.
Can you tell me what's not to like about that? Mr. Roth was so close, yet he sped right past the "refuge" he said he is seeking.  And that his clients are clearly seeking, too.
Furthermore, because it's possible to access both your principal and your gains in these policies with no taxes due under current tax law, you would have to get at least 6% or 7% every year in a taxable or tax-deferred account to equal the 5.1% return of the Bank On Yourself policy that was custom-tailored for Roth.
Plus, there is a death benefit of almost $753,000 available for Roth's family's peace of mind – a fact Roth totally ignored.
Where else does Roth think he can safely get that kind of return and protection?
Please note:  No two Bank On Yourself plans are alike.  Yours would be designed to help you meet your specific long-term and short-term goals and objectives.  To find out what your plan would look like, request your FREE Analysis here, if you haven't already.
And keep in mind that a Bank On Yourself-type policy keeps getting better and better every year you have it – no luck, skill or guesswork required.
Not long ago, we interviewed Bank On Yourself policy owner Dan Proskauer who told me he wanted to "shout from the rooftops" about how his net worth had grown steadily after he started his first Bank On Yourself policy 3½ years ago, compared with his Wall Street roller coaster ride previously. Proskauer used Quicken to visually display the growth in his family's wealth over the last 13 years.
A picture is worth a thousand words, isn't it?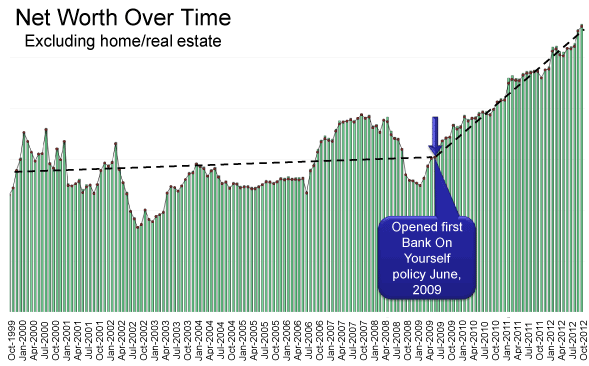 Can anyone tell me what's wrong with results like this?
As Dan Proskauer pointed out when I talked to him, Bank On Yourself only makes it easier and a lot more fun to save, knowing you don't have to worry about when the market is going to crash again, taking your hard-earned money and dreams of a worry-free retirement down with it.
It should also be noted that Dan (who now has nine policies) has used policy loans numerous times to make major purchases. In fact, at the time this picture of his net worth was taken, Dan had a large outstanding policy loan he had taken to buy a boat. But the continued upward march of his net worth is unmistakable, confirming from real-world experience that using a Bank On Yourself policy for financing purchases is not the losing strategy Roth portrayed.
Am I being naïve?
Some people have told me I may be too naïve, and that maybe we didn't fail to communicate the benefits of Bank On Yourself to Roth. Maybe Mr. Roth had an ulterior motive for insisting on comparing how much money he'd have if he bought a car through a policy, against not buying a car at all – especially after the flaw in his logic was explained to him nine different times by three different people.
They point out that Mr. Roth:
Boasts that he does not have an insurance license and has never sold an insurance product. Yet apparently he's enough of an expert on life insurance to have written an "exposé" on every cash value life insurance-based concept that attracts the attention of his clients
Roth appears to have created a second job for himself publishing articles on his CBS News MoneyWatch blog criticizing financial experts ranging from Rich Dad, Poor Dad best-selling series author Robert Kiyosaki, to legendary bond fund manager Bill Gross, demographic trend expert Harry Dent and others. (I guess that puts me in good company!)
Roth has NEVER met a cash-value life insurance product he likes and insists you should buy "only the insurance you need and make sure it's low-cost term insurance." And for only $350 per hour, he will be happy to help you invest the money you "save" in the stock market, although he says he's looking for an alternative to the volatility of the stock market
Roth fancies himself as an expert in "behavioral finance," which looks at why people – including the experts – keep making the same money mistakes over and over again. It's a fascinating field, and one that has intrigued me for years.
Roth teaches people they should buy low-cost index funds and then avoid buying and selling emotionally. That sounds like good advice, but if it's that easy, why do 80% of all mutual funds and investment advisors underperform the markets?2 And why does the typical investor consistently and significantly underperform the market?3
Roth keeps hinting that there are "techniques" which both large and small investors can use to "invest their assets in a much more logical, non-emotional manner." But he himself admits his "techniques" don't work! In a 2008 article he wrote…
I can't seem to resist the human urge to find the next hot stock. If I can't resist that urge, how can I possibly expect my clients to do it? I can't!"4
Perhaps Roth should take a page from Carl Richards, one of the few financial experts Roth has anything good to say about. Richards wrote a book on behavioral finance, and when I interviewed him for my blog in April 2011, Carl said, " I've determined that the solution is to take the sharp power tools away." And that's one thing Bank On Yourself policy owners say they love—there's no luck, skill or guesswork – or will power – involved.
If you want to see the full explanation of how Allan Roth's $12,000 grew to $13,748, you'll find it here, in my first reply to Roth.
Note: There are numerous other inaccuracies in Mr. Roth's article that I'm not going to address here. I think you get the point.
Roth takes issue with my sound bites
Roth's biggest complaint with me and my book may be the sound bites that appear on the book's cover and in the chapter titles related to getting back or recapturing the money you spend on major purchases.
Sound bites are designed to cut through the clutter, and we needed all the help we could get, since we're going against Wall Street and conventional wisdom. Perhaps I could have used different sound bites on my book cover and in my chapter titles.
But Roth is hardly one to point fingers. His main sound bite is that a second grader can beat Wall Street. Yeah. And so can monkeys throwing darts.
I expand on the "get back every penny" concept at length in my book as a process of first saving up for major purchases in a carefully crafted dividend-paying whole life insurance policy, then borrowing from your policy (not from a finance company), and then repaying your policy loans, so your money is available for you to use for subsequent purchases and/or to fund your retirement. This avoids the traps of conventional financing methods and the volatility and unpredictability of traditional investment strategies.
My book contrasts the Bank On Yourself method with conventional financing methods
Example: If you finance a $30,000 car with a bank loan, the interest you pay goes to the bank and you'll never see it again. All you'll end up with is your car, worth whatever its trade-in value is. If you lease the car, you turn your car back in at the end of the lease and you'll have nothing at all to show for your payments.
If you save up money in a savings account and then take the money out to pay cash for the car, the bank won't continue paying you interest on the money you withdraw.
However, if you use the method described in my book to buy a car, when you've paid off your loan you have your car, and the money you paid for your car is now in your policy, available for you to use again. On top of all that—if your policy is from one of the handful of companies that offers this feature  – you continue to receive the exact same dividend on ALL of your money – as if you'd never taken it out to buy the car!
Finally – and this is VERY important—the interest you pay on the policy loan is recouped through the full dividend you receive – unreduced even though you have a policy loan. Again, not all companies offer this feature.  (Learn more about how Bank On Yourself policy loans work here.)
Why put your money where you need to
cross your fingers and hope?" 
Bank On Yourself is based on logic and real actuarial science – and an asset that's increased in value every single year for over 160 years.
What other strategy or product gives you all these advantages?
Keep in mind that Allan Roth is an investment advisor who tirelessly promotes investing on Wall Street, who happens to be a blogger. He is not an investigative reporter. For the record, we worked with a Pulitzer Prize-nominated investigative journalist who spent more than a year investigating Bank On Yourself and reviewed Roth's article and all of his correspondence on this matter. The result of that in-depth investigation? This investigative journalist bought a Bank On Yourself policy for his family!
But at least now, when Allan Roth's clients ask him about having the guarantees and predictability in their plan that Bank On Yourself provides, he can send them his article and tell them, "Oh, I already exposed that." And then pray they don't discover the truth.
We want to hear from you!
We really want to hear from you! What is your experience with Bank On Yourself, whether your journey started from reading my book or from any other source? Has Bank On Yourself given you the "refuge from volatility" Allan Roth says he's seeking? Have you used your policies to finance major purchases and what has your experience been with that? Have you had an experience where having money safe and available to you in your Bank On Yourself plan saved your butt? Do you have a great way of explaining how making major purchases through a Bank On Yourself policy works better than the alternatives?
We'll pick the 10 most interesting or insightful comments made on this blog by midnight, Monday, December 10… and give those posters their choice of a $25 gift certificate for a restaurant in your area, or a personally autographed copy of my best-selling book. (Just in time for the holidays – this could make a nice gift for you or someone you care about!)
Here are the simple rules to participate:
You must be a US resident over the age of 21.
Your post must be made on this blog in the comments below no lather than midnight on Monday, December 10th. You must include a valid email address to qualify.
The 10 winners will be notified no later than Wednesday, December 12th and must respond within 24 hours with a valid street address in the U.S. for shipping, if you choose an autographed copy of the book as your gift and wish to receive it before December 25, 2012.
You may post more than one entry if you wish and there will be only one winner per household.
Gifts will be awarded based on how meaty, informative and insightful the comments are, as determined by the Bank On Yourself team and comments others may make on your comments. But please keep your comments focused on your Bank On Yourself experience. We have to hope Allan Roth has understood where his analysis fell short, so, there's no need to cover that ground again.
The decisions of the Bank On Yourself team are final and, by participating, you agree to hold Bank On Yourself and its principles, employees and related companies harmless. Any posts deemed inappropriate by Bank On Yourself may be edited or deleted.
The list of winners will be posted on this blog before December 31, 2012. All entries become the property of Bank On Yourself and by submitting an entry you give permission to Bank On Yourself to quote from or publish your comments.
(Please note that the link to Allan Roth's article is a static link, rather than a live link, just to make sure that you have all the facts and information as they existed before this rebuttal was published.)
Based on the current dividend scale.  Dividends are not guaranteed and are subject to change.  Bank On Yourself Professionals use companies that have paid dividends every year for at least 100 years
Hulbert Financial Digest, July, 2009
DALBAR's 2012 Quantitative Analysis of Investor Behavior
"Core and Casino," September 1, 2008, FinancialPlanning.com